From www.techradar.com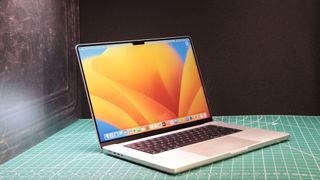 (Image credit: Future)
Apple could be readying fresh MacBook Pro 14-inch and 16-inch models and they'll be debuting soon, if the latest from the rumor mill proves to be correct.
MacRumors was keen-eyed enough to spot a DigiTimes report that insists – add salt, and plenty of it – those MacBook Pros are going to arrive before the end of the year. The report further claims they'll stick with mini-LED displays, but make improvements in power efficiency for these screens.
We're told that the new mini-LED panels are 10% brighter for the same power usage, but Apple's plan is to maintain the image quality as it is and reap battery benefits. In other words, the next-gen screen will use the same brightness level, but will draw less power, meaning these laptops will last even longer away from a mains socket.
DigiTimes reckons the new MacBook Pro models will ship in the fourth quarter of 2023, so they're imminent – in theory, though we're not so sure (we'll come back to that later).
The other point DigiTimes makes is that Apple is set to run with mini-LED screens until 2026, so there are no apparent plans to bring in OLED for the MacBook Pro in the near future (as already rumored, we might be waiting until 2027 for OLED to arrive). Worries about burn-in with laptop screens left turned on for lengthy periods of time are apparently one of the key concerns with moving forward too quickly to adopt OLED.
It's worth noting that the DigiTimes report also makes no mention of whether these revamped MacBook Pros would get the M3 chip. Presumably, the suggestion is they'll stick with current-gen M2 SoCs then, as if there was an M3 upgrade in the cards, you'd think the tech site would've mentioned that.
---
Analysis: Contradictions elsewhere on the grapevine
Okay, so we need to be cautious about this one, as DigiTimes is not always the most reliable source – the rumors from the site can be variable in quality, shall we say – and in this case, some of these purported plans contradict other chatter on the grapevine.
The main discrepancy is that a couple of heavyweight sources are pretty certain that the new MacBook Pros aren't due until 2024. Both Mark Gurman and Ming-Chi Kuo, two of the most prolific Apple leakers out there, believe that new models (with M3 chips) won't arrive until next year.
And, of course, we already had refreshes of the MacBook Pro 14-inch and 16-inch at the start of this year, so to double down on upgrades in the same year feels pretty unlikely timing-wise – especially as folks are really expecting the M3 to be in the next MacBook Pro outings. It'd surely cause disappointment if there was no movement on that front.
That said, a Q4 launch is not something we can totally rule out, and what does throw a bit of extra spice into the rumor-mongering here is a suggestion earlier this week that Apple could be planning to reveal a Mac of some kind – maybe even more than one model – later this month. Although that's not a hugely firm assertion by any means, so take that with its own heap of salt. The most likely candidate for an imminent Mac launch, if there is a device due in October, is the iMac 24-inch, mind.
Overall, then, we remain very skeptical about the possibility of new MacBook Pro models turning up soon. What DigiTimes indicates about the screens for the next iteration of these Apple laptops, and the path to OLED, however, seems plausible enough for sure.
[ For more curated Apple news, check out the main news page here]
The post Apple could be about to surprise us all with new MacBook Pro 14-inch and 16-inch models first appeared on www.techradar.com