From appleinsider.com
Google's latest attempt at a smartwatch puts its Pixel Watch 2 against the Apple Watch Series 9. Here's how the specs of the new wearables compare.
In a live event on October 4, Google introduced its latest batch of mobile devices, including the Pixel 8 and Pixel 8 Pro smartphones, the Pixel Buds Pro, and a new smartwatch. The Pixel Watch 2 takes after the original Google Pixel Watch, but adds in a few new tricks to a fairly solid format.
The Pixel Watch 2 arrives a few weeks after Apple introduced its own smartwatch updates, with the Apple Watch Series 9 being the closest competitor to the search giant's own wearable.
This is how the two models break down on paper, where they differ, and which you should consider acquiring.
Apple Watch Series 9 vs Google Pixel Watch 2 – Specifications
Specifications
Apple Watch Series 9
Google Pixel Watch 2
Price (starting)
$399.00
$349.99
Sizes
41mm, 45mm
41mm
Display
Retina LTPO OLED display
Up to 2,000 nits
Always-on AMOLED display,
Up to 1,000 nits
Case Materials
Aluminum
Stainless steel
Aluminum
Processor
S9 SiP
Qualcomm 5100
Cortex M33 co-processor
Health Sensors
Temperature
Blood oxygen
Electrical heart sensor
Third-generation option heart sensor
Red and infrared oxygen saturation sensors
ECG sensors
Optical heart rate sensor
Skin temperature sensor
Skin conductance sensor
Water Resistance
50 meters
5 ATM
Battery Life
Up to 18 hours (36 in Low Power Mode)
Up to 24 hours
Recharging
Wireless
Wireless
Connectivity
LTE
UMTS
Wi-Fi 4 (802.11n)
Bluetooth 5.3
GPS/GNSS
NFC
LTE
UMTS
Wi-Fi 4 (802.11n)
Bluetooth 5.0
GPS/GNSS
NFC
Other Sensors
Compass
Emergency SOS
Fall Detection
Crash Detection
Always-on altimeter
Accelerometer
Gyroscope
Compass
Barometer
Magnetometer
Altimeter
3-axis accelerometer
Gyroscope
Colors
Midnight
Starlight
Silver
Pink
(PRODUCT)RED
Polished Silver case, Bay Active Band
Matte Black case, Obsidian Active Band
Champagne Gold case, Hazel Active Band
Polished Silver case, Porcelain Active Band
Apple Watch Series 9 vs Google Pixel Watch 2 – Design and appearance
At first glance, there's an obvious difference when it comes to shape between the two devices. While Apple uses a square body and display for the Apple Watch Series 9, as it always does, Google instead embraces a circular face and curved body.
Just like the original, the second Pixel Watch has a domed glass cover made from custom 3D Corning Gorilla Glass 5, on top of a recycled aluminum body.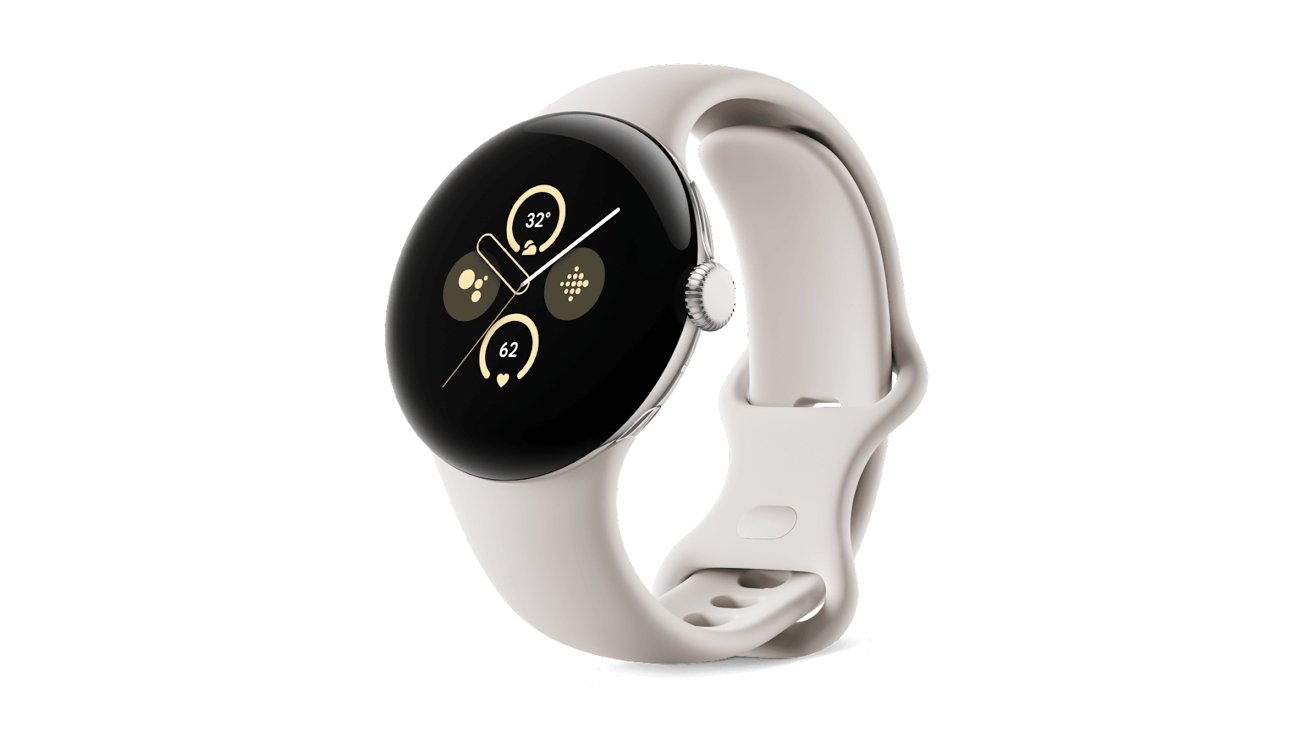 The Haptic Crown and side buttons are your main Google Pixel Watch 2 interaction methods, as well as the touchscreen.
In terms of size, the Apple Watch Series 9 exists in two different sizes, refered to as 45mm and 41mm. The 45mm model measures 45mm by 38mm, and is 10.7mm thick, while the other is 41mm by 35mm and 10.7mm thick.
The Pixel Watch 2 has a diameter of 41mm and a thickness of 12.3mm, making it somewhat comparable to the smaller Apple Watch, but also a lot thicker overall.
For the weight, Google claims the Pixel Watch 2 is 31 grams (1.09 ounces), without the band.
The Apple Watch has different weights, depending on the model. For example, the stainless steel versions will always be heavier than the aluminum ones, and those equipped with cellular service will also weigh less than those without.
The 41mm model can be as light as 31.9 grams (1.125 ounces), rising to 42.3 grams (1.49 ounces) for the stainless steel version, without the band. The 45mm model is 38.7 grams (1.37 ounces) at its lightest, to 51.5 grams (1.81 ounces) at its heaviest.
To actually interact with each watch, users can take advantage of the touch-enabled displays primarily. Both have a dial to the side, with the Apple Watch using the Digital Crown while Google opts for a smaller and more central "Haptic Crown.
Both also have a separate button near the crown for further navigation in apps.
Apple Watch Series 9 vs Google Pixel Watch 2 – Display
The Apple Watch Series 9 has square displays, with resolutions of 352 by 430 pixels and 396 by 484 pixels, depending on size. Always-on, the screens are Retins LPTO OLED panels, which can range from 1 nit to 2,000 nits of brightness.
Google's screen is circular, which will affect the amount of information it could show, versus a square one that has pixels in the corners. The 1.2-inch display has a resolution of 450 pixels by 450 pixels crossing through the center of the screen.
At 320ppi, the pixel density of the Pixel Watch 2 is a little below the Apple Watch Series 9, which manages about 326ppi across both models.
Google's version is an AMOLED panel, though it manages up to 1,000 nits of brightness. Unusually it has DCI-P3 color space coverage, which is nice to have.
Apple Watch Series 9 vs Google Pixel Watch 2 – Processing
The Apple Watch uses an S9 System in Package (SiP), an upgrade to the line that uses a four-core Neural Engine. Capable of processing machine learning tasks twice as fast as the Series 8, it can also help improve dictation tasks by making them 25% more accurate.
Running Wear OS 4.0, the Pixel Watch 2 uses the Qualcomm 5100 in its Pixel Watch 2, alongside the Cortex M33 co-processor. The Qualcomm 5100 is part of the Snapdragon W5 chipset, a wearable System on Chip (SoC) made using a 4-nanometer process and using four Cortex-A53 cores clocked at 1,7GHz.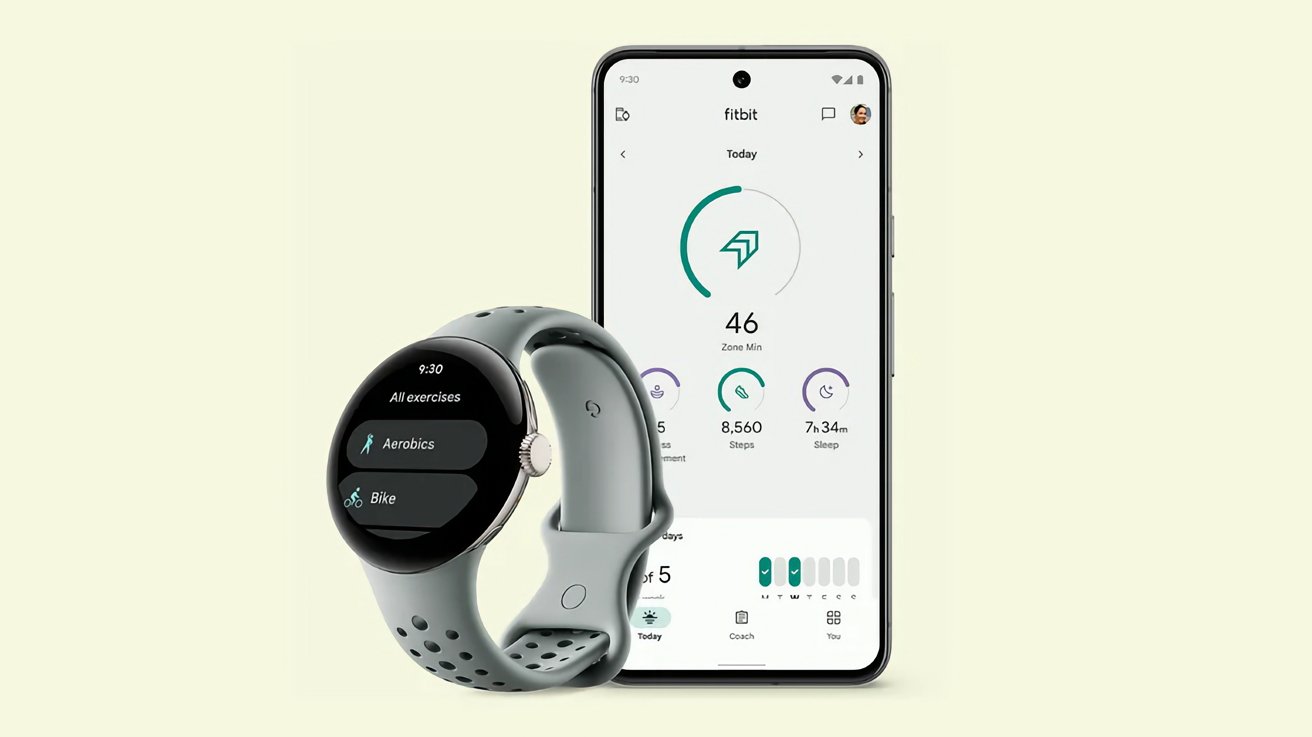 iPhone, the Pixel Watch 2 can be connected to an Android device. " height="737″ >
Like the Apple Watch can be linked to an iPhone, the Pixel Watch 2 can be connected to an Android device.
That low-power co-processor is intended to help reduce the resource consumption of the Pixel Watch 2, allowing it to last for as long as possible.
Compared to the Pixel Watch 1, it should be both faster and more energy efficient.
Since we are talking about smartwatches here, it's a little excessive and difficult to judge performance for something that isn't that performance-dependent for the user. Suffice it to say that both product lines will do enough to help users get around their day without too much trouble.
Apple Watch Series 9 vs Google Pixel Watch 2 – Health and fitness
The Apple Watch Series 9 uses elements including its third-generation optical heart sensor, temperature sensor, electrical heart sensor, and blood oxygen sensor to keep tabs of the user during workouts, and for quick checks of their vitals between activities. The ECG feature has repeatedly been praised for helping save lives.
Likewise, Google includes multiple sensors to do similar things, including a multi-path optical heart rate sensor, multi-purpose electrical sensors that can also provide ECG functons, and infrared and red sensors for monitoring oxygen saturation.
The new versions also work with improved AI heart rate algorithms to become 40% more accurate for high-intensity activities.
Google also includes an electrical sensor to measure skin conductance. The electrodermal activity sensor is able to tell changes in the skin response, which when fed into the Body Response system, can warn users of high levels of stress.
Both device families also offer extras like sleep tracking, workout routine monitoring, and the ability to ask for results of trends.
Apple Watch Series 9 vs Google Pixel Watch 2 – Battery and storage
In terms of how much battery life you can get out of the smartwatches, the information provided somewhat differs between companies.
According to Apple, the Apple Watch Series 9 can last up to 16 hours on a single charge, or up to 36 hours in Low Power Mode. Meanwhile, Google claims its smartwatch can manage up to 24 hours of usage from a single charge.
While the claims are nice, they are based on usage testing that can vary between the two companies.
For example, Apple says its testing was based on 90 time checks, 45 minutes of app use, 90 notifications, and a 60-minute workout with music playback within that 18-hour period.
Google is less forthcoming about its own test, except that it is based on a usage profile "across a mix of talk, data, standby, and use of other features."
It's safe to say that you're going to get all-day battery life with either model.
Recharging is handled on both devices by a charging puck. Google says that a 50%
Storage, which is used for apps and music, is now at 64GB for the Apple Watch, double the previous generation.
The Pixel Watch 2 has 32GB of eMMC Flash memory.
Apple Watch Series 9 vs Google Pixel Watch 2 – Other features
Apple includes Emergency SOS, as well as Fall Detection and Crash Detection, for dealing with emergency situations, among a wealth of other safety elements. Google includes similar features, including fall detection, the sharing of medical details in emergencies, and contact notifications.
The Google Pixel Watch 2 is water resistant to 5ATM, Apple says the Apple Watch is IP6X dust resistant and can handle 50-meter depths in water.
Both product families have 4G LTE cellular connectivity options, along with Wi-Fi 4, but while Apple offers Bluetooth 5.3 support, the Pixel Watch 2 manages Bluetooth 5.0.
Apple Watch Series 9 vs Google Pixel Watch 2 – Pricing
The Google Pixel Watch 2 starts from $349.99, in a choice of four colorways, for the Bluetooth and Wi-Fi version. Cellular costs $399.99.
The Apple Watch Series 9 starts at $399 for the 41mm non-cellular model in aluminum, $429 for the 45mm. Cellular options bring the cost up to $499 and $529 respectively,
The stainless steel versions start at $749 and $799, depending on the size, with celluar already included.
Apple Watch Series 9 vs Google Pixel Watch 2 – What to buy
As far as smartwatches go, the Apple Watch Series 9 and the Google Pixel Watch 2 are great examples of the form. They both offer style and bags of functionality, day-long usage, and safety and health features.
Independent of smartphone ownership, it would be a narrow win for Apple here. While Google pulls ahead on the battery usage front and a more traditional round face, Apple's choice of bodies and sizes, as well as more screen and onboard storage, makes it a more useful device, even though it is a little more expensive.
However, this is all ignored as soon as you bring a smartphone into the equation. We all know that iPhone owners will probably side with the Apple Watch and Android users will go to the Pixel Watch 2, due to how integrated each is within their respective ecosystems.
Whichever a potential customer will go for, they will end up with a wearable that they will be happy with.
Apple Watch Series 9 vs Google Pixel Watch 2 – Where to buy
If you'd prefer the Google Pixel Watch 2, it starts at $349 and can be ordered at Amazon and Best Buy.
[ For more curated Apple news, check out the main news page here]
The post Apple Watch Series 9 vs Google Pixel Watch 2 — Specs, price, and features, compared first appeared on appleinsider.com