From www.techadvisor.com
Image: Youtube.com / Samsung
A new version of Android is released every year, but every manufacturer also makes changes and tweaks that are specific to its devices.
One UI is the most well known of these 'skins', as it's what you'll find on all recent Samsung smartphones and tablets.
Android 14 is now official, and it wasn't long before Samsung revealed the new version of One UI that will run over the top of it. Plenty of new features were announced, but it's not yet clear when One UI 6 will be arriving on your devices.
Here's everything you need to know about the upcoming version of Android for Samsung devices.
When will OneUI 6 be released?
On 5 October 2023, during the Samsung Developer Conference (SDC23), the company unveiled detailed plans for the the future of its ecosystem. One of the main talking points at the keynote was One UI 6 and the improvements it's going to bring about.
Unfortunately, even though we got to hear a lot about new features, there was no concrete information about the release date. However, with a ninth beta launching in late October, Notebookcheck believes a final version could be ready very soon.
One thing we do know is that it'll be running on the upcoming Galaxy S24 series, which is expected to launch around late January 2024. After that, it should slowly make its way to all the models that will be eligible for the upgrade, as well as other upcoming models such as the Galaxy A55 and Galaxy A35.
Which phones will get One UI 6?
Along with their detailed plans for all the features in One UI 6, Samsung also announced a list of devices that will get the next version. Here are all the devices that can expect the update at some point after its release.
Galaxy S series
Galaxy S23 Ultra
Galaxy S23+
Galaxy S23
Galaxy S22 Ultra
Galaxy S22+
Galaxy S22
Galaxy S21 FE
Galaxy S21 Ultra
Galaxy S21+
Galaxy S21
Galaxy Z series
Galaxy Z Fold 5
Galaxy Z Flip 5
Galaxy Z Fold 4
Galaxy Z Flip 4
Galaxy Z Fold 3
Galaxy Z Flip 3
Galaxy A series
Galaxy A73
Galaxy A72
Galaxy A54
Galaxy A53
Galaxy A52 (A52 5G, A52s)
Galaxy A34
Galaxy A33
Galaxy A24
Galaxy A23
Galaxy A14
Galaxy A13
Galaxy A04s
Galaxy M series
Galaxy M54
Galaxy M53 5G
Galaxy M33 5G
Galaxy M23
Galaxy F series
Galaxy F54
Galaxy F23
Galaxy F14 5G
Galaxy Xcover series
Galaxy tablets
Galaxy Tab S9 Ultra
Galaxy Tab S9+
Galaxy Tab S9
Galaxy Tab S8 Ultra
Galaxy Tab S8+
Galaxy Tab S8
What new features does One UI 6 have?
One UI 6 is set to be quite a substantial change, introducing several new features and notable quality of life improvements on Samsung phones and tablets. Here are the most important ones:
Quick panel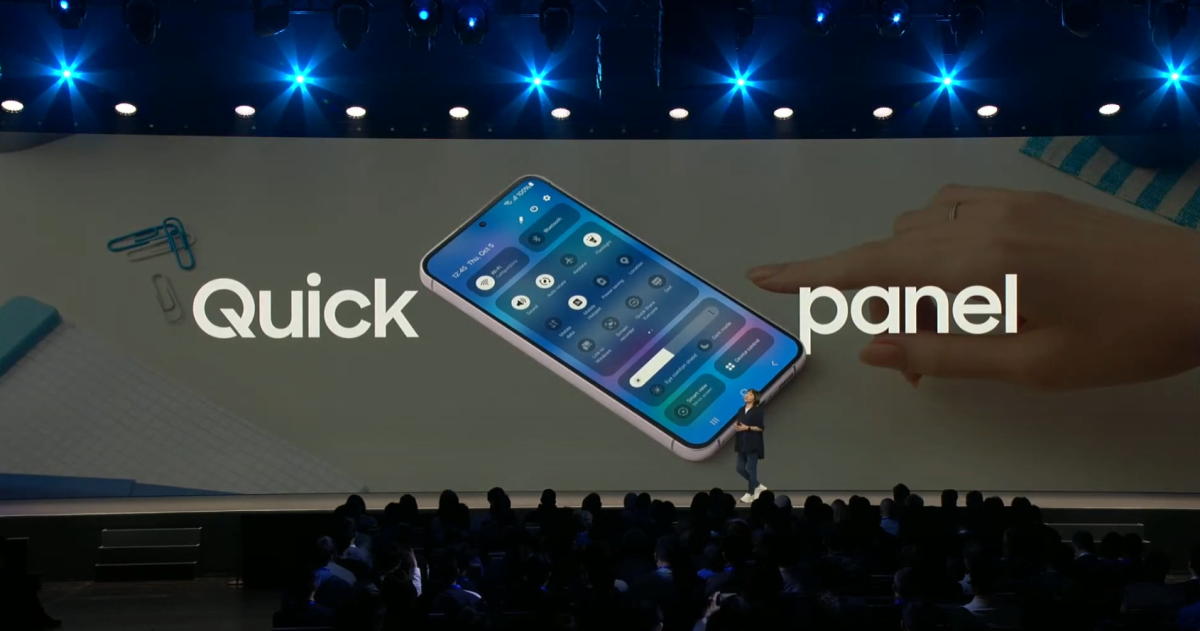 youtube.com / Samsung
The biggest UI change in One UI 6 is the Quick panel, Samsung's take on the quick settings menu. It introduces a new button layout which will make it easier to access the most useful features first, like Wi-Fi and Bluetooth toggles. The panel itself is now divided into the most important part at the top, a customisable panel in the middle, and a visual options panel at the bottom.
There are more layout changes, such as an improved album art display in the panel and the ability to quickly access brightness controls. One UI 6 also makes it much quicker to access the full Quick panel, as it requires just two swipes down to get all your options.
New personalisation options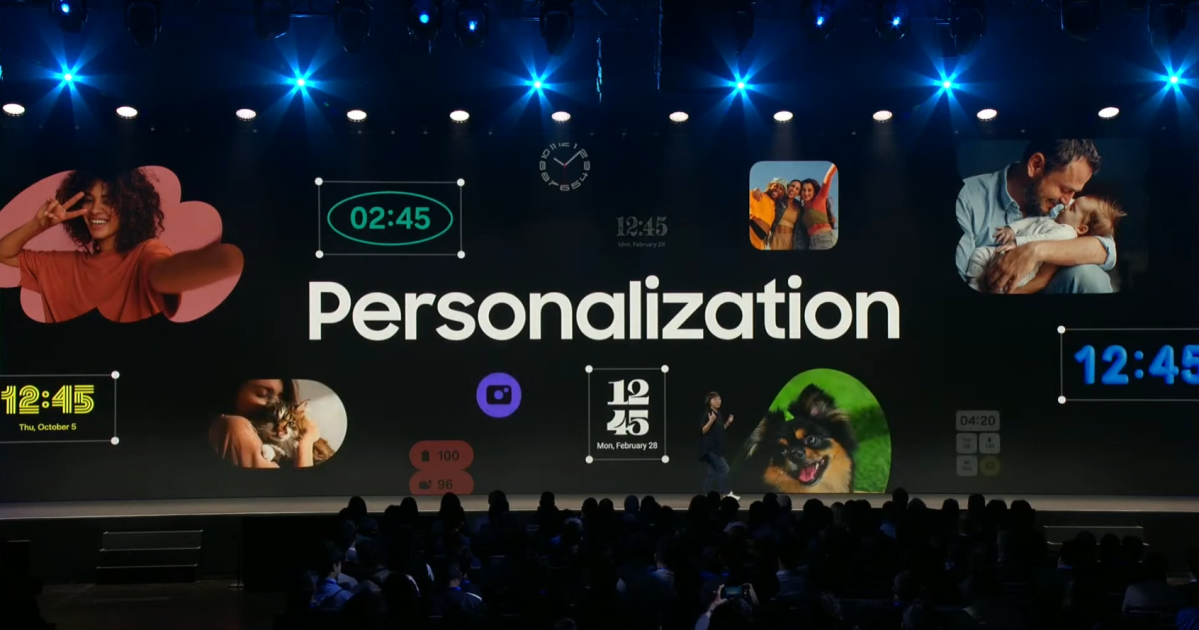 youtube.com / Samsung
On eUI 6 also focuses on personalisation. You'll now be able to reposition the clock on your lock screen, as well as add different watch faces.
You can also customize it with routines, allowing it completely different based on the time of day. This means not only different watch faces or wallpapers, but also shortcuts to different apps.
Camera and editing improvements
youtube.com / Samsung
Samsung also announced lots of One UI 6 features for taking better photos and videos, but also editing them using AI and machine learning (ML).
Firstly, you can now add custom camera widgets to your home screen, each opening the app in different shooting modes and with the options of your choosing. You'll also have much easier access to options such as resolution settings, video size menu or effects, making customising your photos and videos much easier.
There are also options which allow you to decide quality your photos will be saved at. This allows you to choose how much post-processing is to be done to your photos, giving you more freedom to shoot the way you like.
The Gallery app has also got some attention. It will analyse photos using AI and has new features such Photo Remaster (for improving the quality of photos and GIFs) and Object Eraser (for removing objects you'd prefer not to be in the frame.
Elsewhere, a new video editing app called Samsung Studio aims to make it quick and easy to edit video directly on your phone.
Galaxy connected experience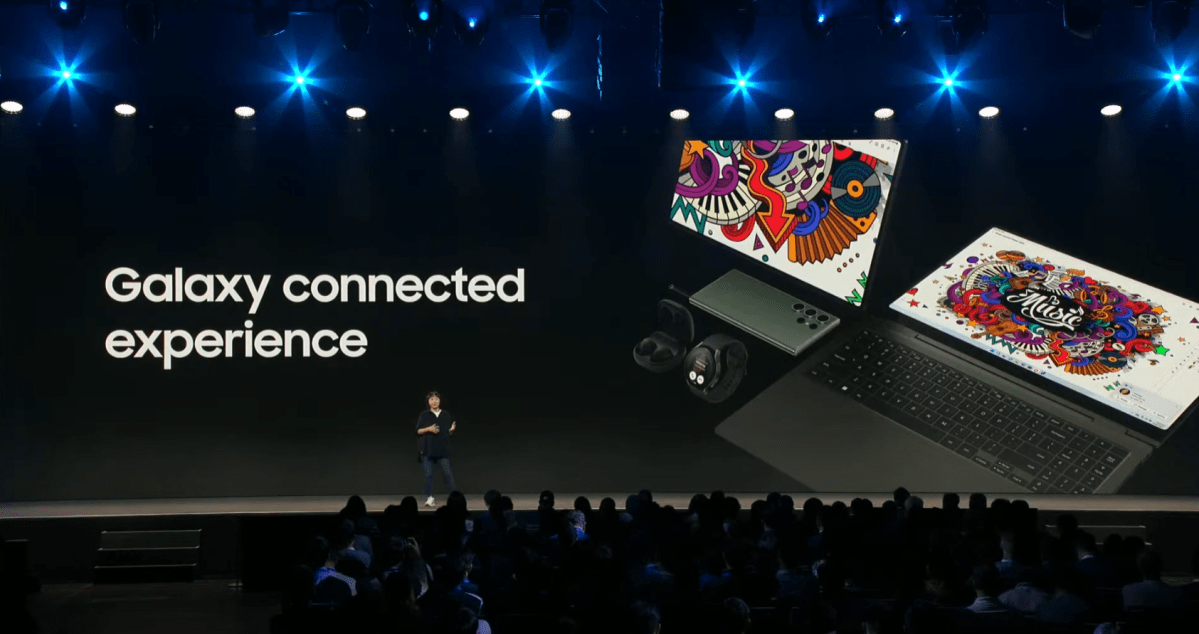 youtube.com / Samsung
Samsung is also trying to unify its ecosystem even more. Sharing content between Galaxy tablets and smartphones was already easy, but One UI 6 makes it just as easy between Android and Samsung's Galaxy Book laptops.
You can even control all these devices with the same mouse and keyboard, making the experience seamless and allowing you to, for example, copy and paste content between these devices without any issues.
New system font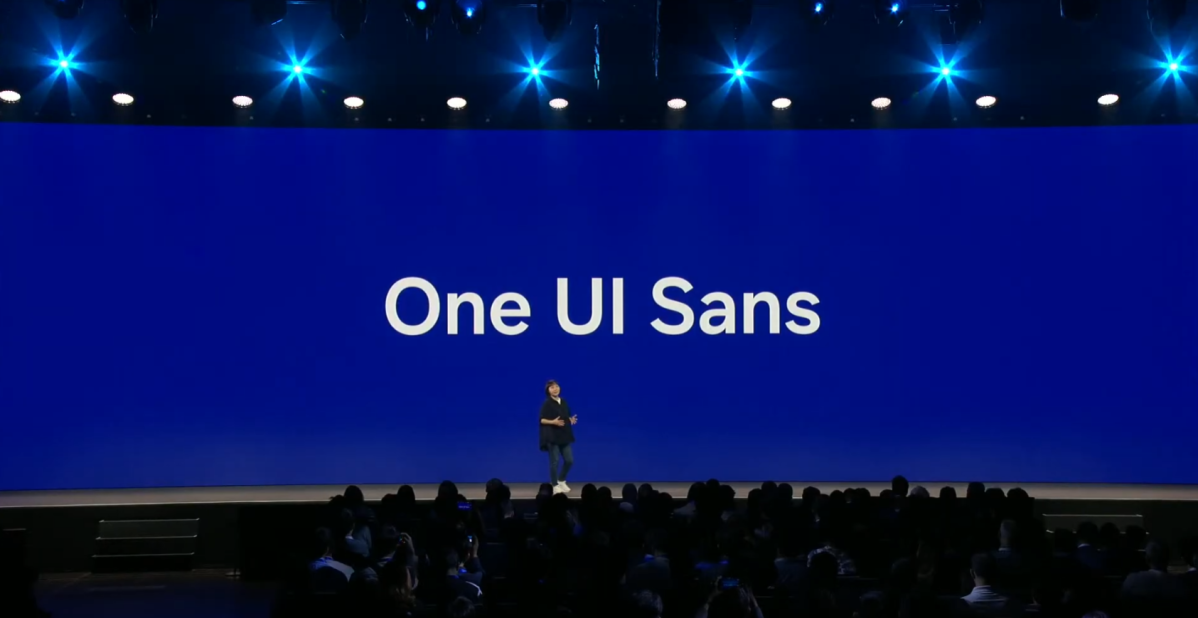 youtube.com / Samsung
One change that might not affect the way you use your phone, but you will notice, is the new system font. One UI Sans will be the new default system font, and is designed to make it feel more modern and improve readability.
Other interesting features
There are a lot more small changes that the update will bring to Samsung devices. The full list can be found on Samsung's website, but here are a few worth mentioning:
New weather widget with personalised tips based on the weather
New schedule view for the Calendar app
Samsung Internet can now play videos in the background
New Smart select tool for pinning image to the screen, resizing it and selecting only a portion of it
New accessibility options: magnification customisation and cursor thickness settings
[ For more curated Samsung news, check out the main news page here]
The post Everything you need to know about Samsung's One UI 6 first appeared on www.techadvisor.com