Samsung makes some of the best Android tablets, packing high-end specs, stunning displays, and all-day battery life. The Galaxy Tab S9 series is the perfect example of this, featuring a powerful Snapdragon 8 Gen 2 chip and a 120Hz OLED display inside its slim and svelte body. But these tablets are expensive, with a starting price tag of $800. If you are on a tight budget, Samsung is working on the Galaxy Tab S9 FE series that will burn less of a hole in your wallet.
These tablets will retain the same design as their more expensive siblings but make other compromises to reach a lower price point. If you want a tablet with decently powerful internals, a big display, and a reasonable price tag, the Galaxy Tab S9 FE could be the one. Samsung skipped the Tab FE lineup in 2022 due to the semiconductor crunch. But this year, the lineup is all set to make a comeback alongside the Galaxy S23 FE. Below is everything we know about the Samsung Galaxy Tab S9 FE based on all the leaks, rumors, and renders that have appeared so far.
Samsung Galaxy Tab S9 FE: Design and Display
The Samsung Galaxy Tab S9 FE series will share more than just its name with the company's flagship tablet lineup. Leaked renders of the Tab S9 FE and FE+ indicate their design will be similar to the Tab S9 models.
MediaPeanut"" data-modal-id="single-image-modal" data-modal-container-id="single-image-modal-container" data-img-caption="null">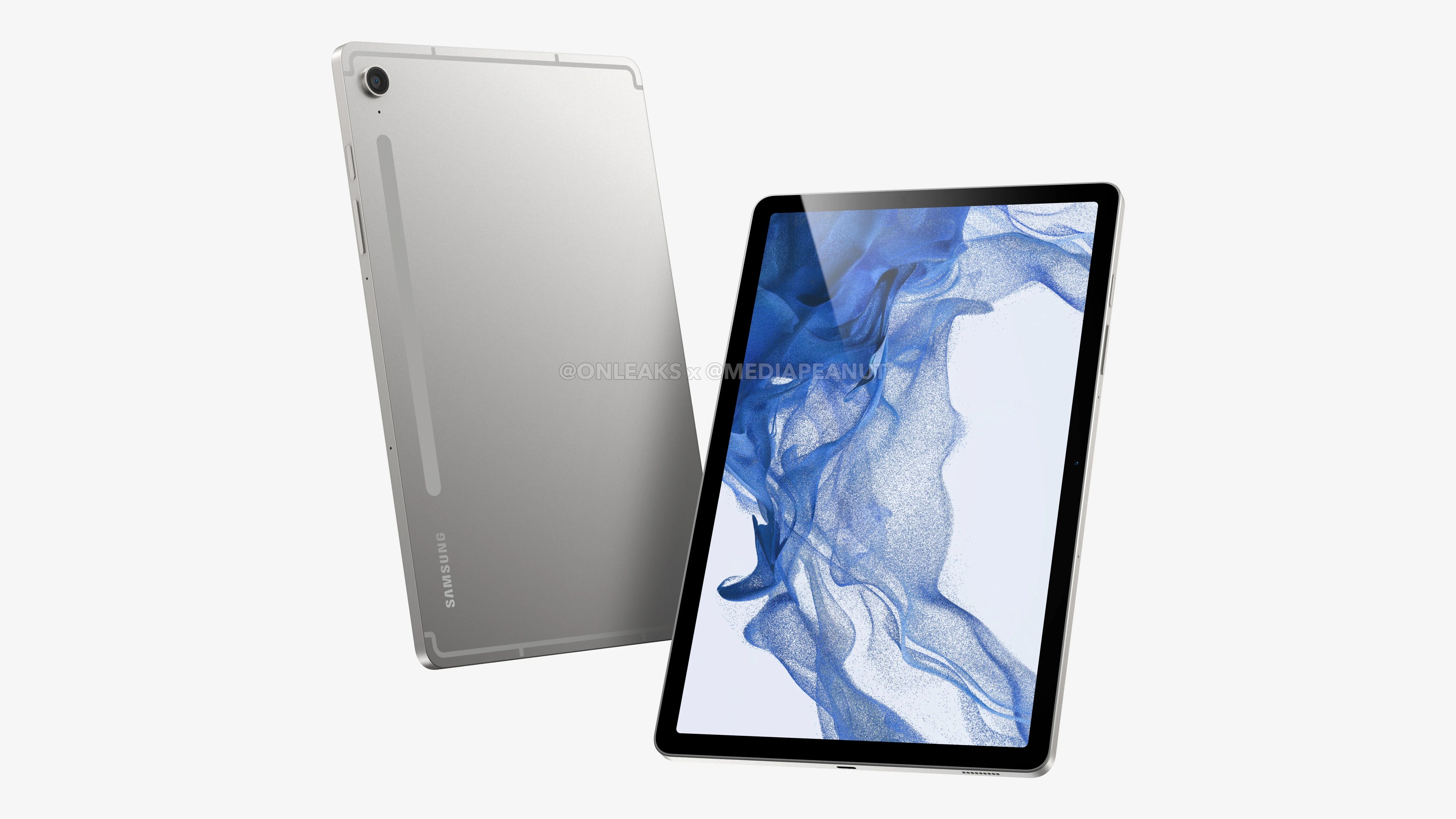 Based on the renders shared by MediaPeanut, the Tab S9 FE's front will almost entirely be dominated by the rumored 10.9-inch display. From the rear, the tablet looks like the Galaxy Tab S9, right down to the magnetic S Pen charging slot.
Leaked Galaxy Tab S9 FE+ renders courtesy of WolfofTablet reveal a similar story. It looks very similar to the Galaxy Tab S9+, including a dual-camera setup at the rear.
That's the Galaxy Tab S9 FE+, not the Tab S9+
Samsung switched its entire Galaxy Tab S9 lineup to 120Hz OLED panels this year. However, the Tab S9 FE is not expected to follow suit. Rumors suggest the Fan Edition tablet lineup will come in two sizes: 10.9-inch and 12.4-inch. Both will seemingly be LCD panels with a 60Hz refresh rate as standard. A Google Play Console listing leak suggests the Tab S9 will have a 2,304 x 1440 resolution screen, while the Plus will house a 2,560 x 1440 LCD panel.
Samsung Galaxy Tab S9 FE: Specs
The Galaxy Tab S9 FE might share the same branding and design as the regular Tab S9 series. Internally, though, it will apparently be a different story altogether. While the Tab S9 lineup uses the Snapdragon 8 Gen 2 chip, the FE models could use a mid-range Exynos 1380 chip. This is the same SoC that does duty inside the Korean giant's Galaxy A54 and other budget devices.
This might be paired with 6/8GB RAM and 128GB base storage. Other rumored specs include a side-mounted fingerprint scanner, stereo speakers, and compatibility with various Samsung accessories. S Pen support is likely also present, and Samsung might bundle one in the box. The regular Tab S9 FE could house a single rear camera, while the Plus model will have two shooters. At the front, both tablets will purportedly have a single selfie camera.
As spotted by MySmartPrice, the Galaxy Tab S9 FE+ will carry the SM-X616B model number, at least for the 5G variant, and ship with a beefy 9,800mAh battery. It might also support 45W fast charging.
Both Galaxy Tab S9 FE models will seemingly be available in four colors: Lavender, Mint, Graphite (Gray), and Silver. Besides a Wi-Fi variant, Samsung plans to launch the Tab S9 FE and FE+ with 5G connectivity.
Given the leaked specs, the Galaxy Tab S9 FE series will pack mid-range specs behind their large displays. Unless you want a performance-oriented tablet or have a demanding workload, the Tab S9 FE could be an excellent buy for content consumption. All this will depend on its final price, though.
Samsung Galaxy Tab S9 FE: Software
Despite the rumored difference in the underlying hardware, the Galaxy Tab S9 FE series will provide the same software experience as its more expensive siblings. It should run on Android 13-based One UI 5.1.1. The latest point release of Samsung's One UI skin introduced several tablet- and foldable-specific features that further boost your productivity. This includes the bottom taskbar showing up to four recent apps and a gesture to drag and drop content between apps.
Depending on when the Galaxy Tab S9 FE is released, its Android 14 and One UI 6 update should not be far behind. The next major One UI release will pack even more features to deliver a better experience. Software is one of the key reasons why Samsung tablets are superior to other offerings on the market, and the company continues to build on that.
Samsung Galaxy Tab S9 FE: Price and release date
The Galaxy Tab S9 FE series should launch sooner rather than later. There's no confirmed release date yet. But with the Tab S9 FE+ passing through FCC, it's clear the tablet's debut is imminent. The Korean giant itself has inadvertently confirmed the existence of the Tab S9 FE and FE+, and it is only a matter of time before they go official.
Samsung should announce the Galaxy Tab S9 FE series alongside the Galaxy S23 FE in late September or October, before the holiday season. The attractive pricing of these products should allow the company to catch the attention of a lot more customers.
If you thought the Galaxy Tab S9 FE would be priced reasonably due to its modest specs, prepare for disappointment. All leaks suggest the tablets will carry a steep price tag, though their US pricing has not yet popped up online. In India, the entry-level Galaxy Tab S9 FE with Wi-Fi connectivity could cost Rs 63,000, which is almost $800.
In Europe, the pricing could be a bit more sensible. A SamInsider leaker suggests the Tab S9 FE's price will start from €550, with the 12.4-inch Tab S9 FE+ apparently costing €750.
Considering the Galaxy Tab S7 FE launched for $529 in the US in 2021, we expect prices for the Tab S9 FE series to start from around $600 or lower. This could make sense considering non-FE Galaxy Tab S9 prices start at $800 in the US. With Samsung's amazing pre-order and trade-in deals, you should be able to get your hands on the Tab S9 FE at a relatively reasonable price.
Samsung Galaxy Tab S9 FE: Pixel Tablet competitor?
Depending on how Samsung prices the Galaxy Tab S9 FE, the Google Pixel Tablet could be its closest competitor. The tablet ships with a 10.95-inch 2,560 x 1600 LCD panel, a powerful Tensor G2 chip, and a Google-y Android experience. For $500, the Pixel Tablet will likely trump Samsung's offering with its price-to-performance ratio. The Charging Speaker Dock that Google bundles with the Pixel Tablet is a cherry on top.
However, many users might prefer Samsung's software experience and multitasking features. The Pixel Tablet's limited availability also gives the Galaxy Tab S9 FE an advantage. But ultimately, everything depends on the tablet's price.
[ For more curated Samsung news, check out the main news page here]
The post Samsung Galaxy Tab S9 FE: News, leaks, rumored price, and release window first appeared on www.androidpolice.com