From www.phonearena.com
Even though Samsung appears to have no intention to keep the upcoming Galaxy S23 FE, Tab S9 FE, and Buds FE a secret any longer, there is (at least) one device expected to go official soon that the company hasn't technically confirmed yet in any way, shape, or form.
Unfortunately for the world's number one smartphone manufacturer and number two tablet vendor, Amazon seems to have just blown the Galaxy Tab A9's cover as well, cryptically teasing a "new Galaxy Tab coming soon" to India… while inadvertently revealing its name and design.
The Tab A9 is now all but guaranteed to see daylight on October 5, at least in the world's second most populous country, and thanks to a terribly blurry promotional image, the mid-ranger's previously leaked external appearance is (more or less) etched in stone too.
While some details are hard to make out or accurately anticipate, this thing should look overall very similar to the 10.5-inch Galaxy Tab A8 from a couple of years ago, as well as the 2020-released 10.4-inch Tab A7.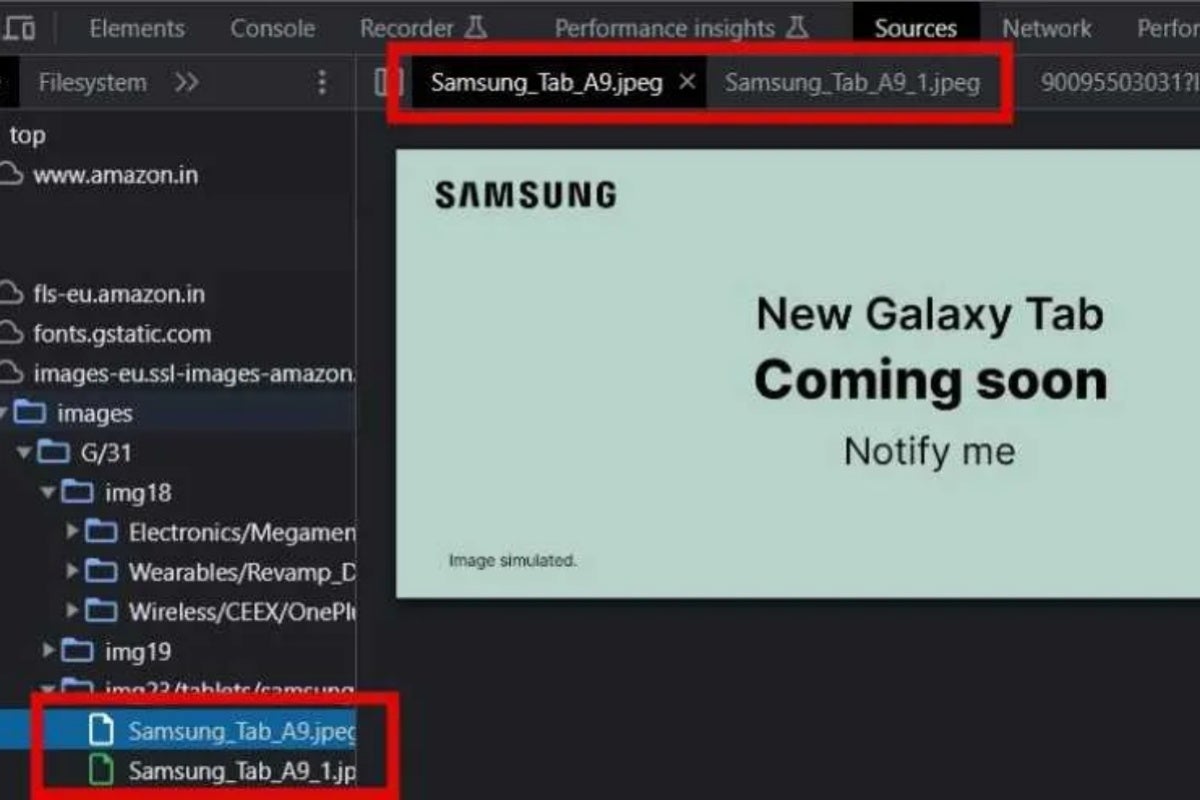 The Galaxy Tab A9 name is confirmed by Amazon.
You're not really dealing with an iPad killer here, but rather an iPad undercutter, set to bid for the title of best budget tablet around with reasonably thin and uniform bezels, a single rear-facing camera, and a modest screen of unknown size.
Weirdly enough, said display is expected to offer 720p resolution, which would make this more of a Galaxy Tab A9 Lite effort compared to the aforementioned Tab A7 and Tab A8, both of which are equipped with 2000 x 1200 pix res screens.
This Galaxy Tab A9 (or Tab A9 Lite) model is further tipped to pack a middling MediaTek processor and no more than 4GB RAM while unsurprisingly running Android 13 on the software side of things. Interestingly, there's a possibility that Samsung will also unveil a Tab A9+ variant on or around October 5, which might explain the company dropping the Lite moniker for the humbler device.
Let's wait and see exactly what's in store before jumping to too many conclusions, though, as well as before trying to guess just how affordable the Tab A9 and Tab A9+ could be in markets like India and the US.
[ For more curated Samsung news, check out the main news page here]
The post Samsung's mid-range Galaxy Tab A9 is right around the corner, as confirmed by Amazon first appeared on www.phonearena.com