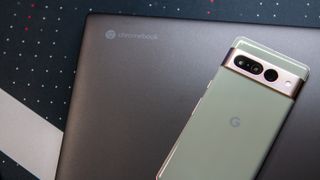 (Image credit: Andrew Myrick / Android Central)
What you need to know
A potential list of "Chromebook Plus" devices was discovered on a now-deleted Chromium Gerrit commit.
The list includes a few Chromebooks that are already available, along with some that are unannounced.
It still remains unclear how this branding will be introduced or marketed to consumers.
Earlier this year, it was discovered that Google was potentially working on some new branding for Chromebooks. Originally, the train of thought was that these "Chromebook X" or "Chromebook Plus" devices would be running higher-end hardware, such as the HP Dragonfly Pro Chromebook. However, 9to5Google has found that this might not exactly be the case.
According to a Chromium Gerrit commit that has since been deleted, there are a total of six different current Chromebooks that could be rebranded. These include the ASUS Chromebook CM34 Flip, HP Chromebook x360 14c-cd0, Lenovo IdeaPad 5i Chromebook, Lenovo IdeaPad Flex 5i Chromebook, Lenovo 14e Chromebook Gen 3, and Lenovo Slim 3i Chromebook 14.

Surprisingly, the list also included a few models that have not yet been officially announced. 9to5Google was also able to compile a list of those Chromebooks, including the Acer Chromebook Plus 514, Acer Chromebook Plus 515, ASUS Chromebook CX34 CX3402CBA, and HP Chromebook 15.6″.
Not much else was revealed in the Gerrit commit before it was removed, so there are still a boatload of questions that are left to be answered. Arguably the biggest question is what hardware requirements will Google impose on these "Chromebook Plus" devices. If the lists above are anything to go by, we suspect these will be more for "mid-range" or sub-$700 Chromebooks.
This also opens the door for Google to introduce branding or naming schemes for both higher-end and lower-end devices. Will "Chromebook X" be for devices like the Acer Chromebook Spin 714 and HP Dragonfly Pro Chromebook? Or is Google just going to lean into "Chromebook Plus" as the device for "everyone?"
As noted by 9to5Google, there's going to be more going on with these Chromebooks than just some new branding and potential marketing. We're also expecting some unique features to be made available for various Chromebooks, which could include things such as support for up to 16 virtual desks, Live Caption, voice isolation, and others.
We haven't seen much in the way of leaks for upcoming Chromebooks, so we aren't sure when or if Google will make an official announcement. But now that the Pixel 8 event has been confirmed for early October, we wouldn't be surprised if Chromebooks end up being part of the show.
[ For more curated Samsung news, check out the main news page here]
The post These could be the first 'Chromebook X' or 'Chromebook Plus' devices first appeared on www.androidcentral.com