From www.imore.com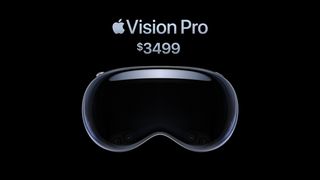 (Image credit: Apple)
Apple unveiled its brand new spatial computing headset, Apple Vision Pro, at WWDC 2023. The new device is a wearable augmented reality headset that's designed for watching TV shows and movies, along with playing games, communicating, and collaborating on projects.
It has the power of two 4K displays, along with an Apple silicon processor, hand and eye tracking, as well as a Digital Crown for adjusting immersion. That's just scratching the surface of what it has to offer though with us picking out a whopping 50 things you need to know about the Apple Vision Pro. It should be some truly exciting tech. Apple has even created a dedicated AR division to help handle future Vision launches so it's a core plan for the company.
The new headset costs $3,499 and will be released in the U.S. early next year, with more countries to follow.
With developers already working on apps for the Vision Pro and a new alliance being formed to help drive an open standard for the creation of 3D content, the future is looking very bright. Here's a look at everything you need to know about it.
Apple VR headset: At a glance
What is it?: A wearable "Spatial Computer" capable of augmented reality, featuring two 4K displays
How much does it cost?: $3,499
When is it coming out?: Early 2024 in the U.S., with more countries to follow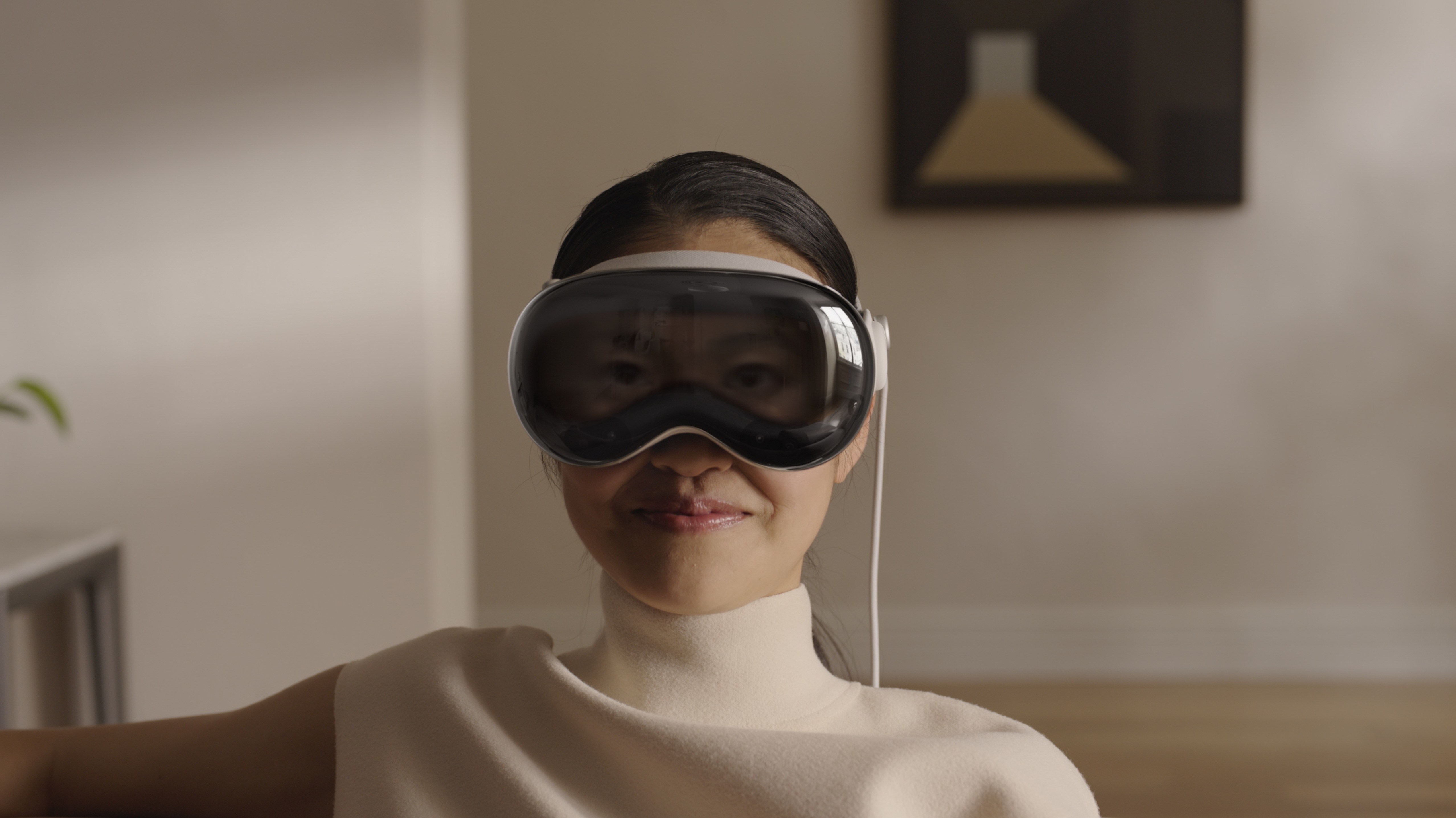 Apple says the Apple Vision Pro creates a new form of computing, called "spatial computing," which differs from typical mobile computing.
Where Apple sets itself apart from other devices like this is through its deeper use of augmented reality. The Apple Vision Pro uses computer-generated images as viewed through a lens, but these are super-imposed over the real world. From there, it's able to create dynamic experiences that combine virtual reality with the real world. It's all done so through a head-mounted screen in front of your eyes in this case, but we've seen augmented reality like it on the iPhone such as when playing Pokemon Go.
Apple Vision Pro can also be used in "environments" for watching movies in a forest, for example, using the Digital Crown to adjust the level of immersion. Vision Pro relies solely on your eyes, hands, and voice to control it. Selecting something involves tapping your fingers together and flipping with your eyes. It's also possible to look at a search field then begin dictating. Best of all? The Apple Vision Pro will identify items, text, and more through just looking at it. It's effectively a more advanced form of Visual Lookup.
Some people have issues with motion sickness but the hope is that this won't be an issue with Vision Pro thanks to cool new technology. New patents have been spotted that suggest Apple is targeting eye strain and motion sickness in particular.
A new R1 chip pairs with the M2 chip within the headset. A curved OLED lens with a lenticular design has a 3D design that looks transparent, Apple says. There's no video conferencing camera looking at you. Instead, according to Apple, the system uses an "encoder/decoder neural network," trained on thousands of people, to create a virtual persona of you with volume and depth.
OpticID relies upon your unique retina pattern for security, a necessary element given to the overall privacy policy. Apple says it does enough processing locally that websites you are browsing on the built-in browser will not be privy to information about where you are looking; the only information passed along to a given site is the click.
Apple Vision Pro headset: Design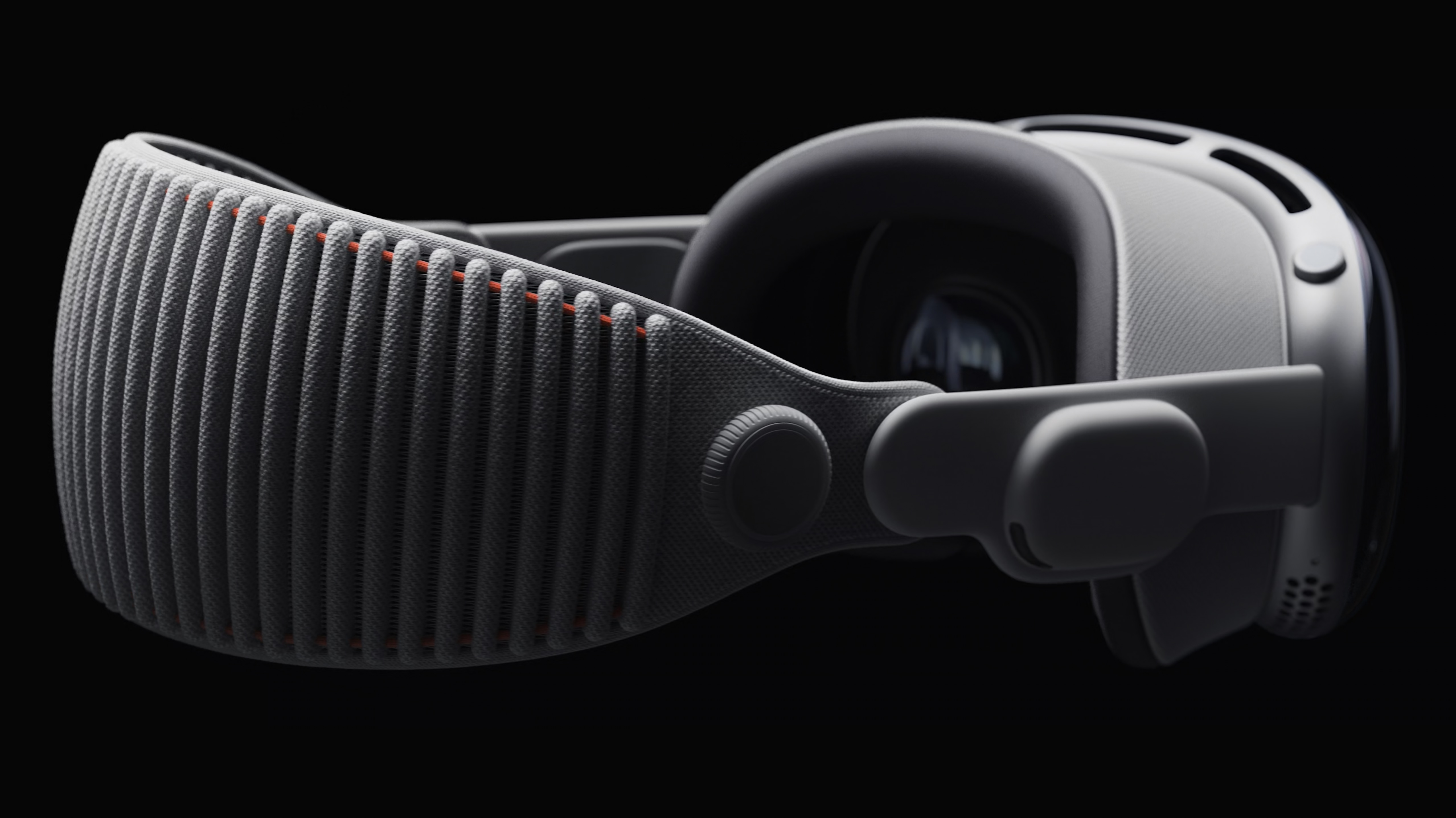 The Apple Vision Pro is a singular piece of 3D laminated glass, polished to create an optical surface acting as a lens. It uses an array of front-facing cameras that blend the digital world with the physical. On a more tactile level, it has a custom aluminum alloy frame with a Light Seal made of textile to provide a stylish exterior. The Light Seal ensures it fits comfortably on your nose and will be available in a range of shapes and sizes to suit every face.
There's also a 3D knitted headband made as a single piece for cushioning, breathability, and stretch. It also comes in multiple sizes.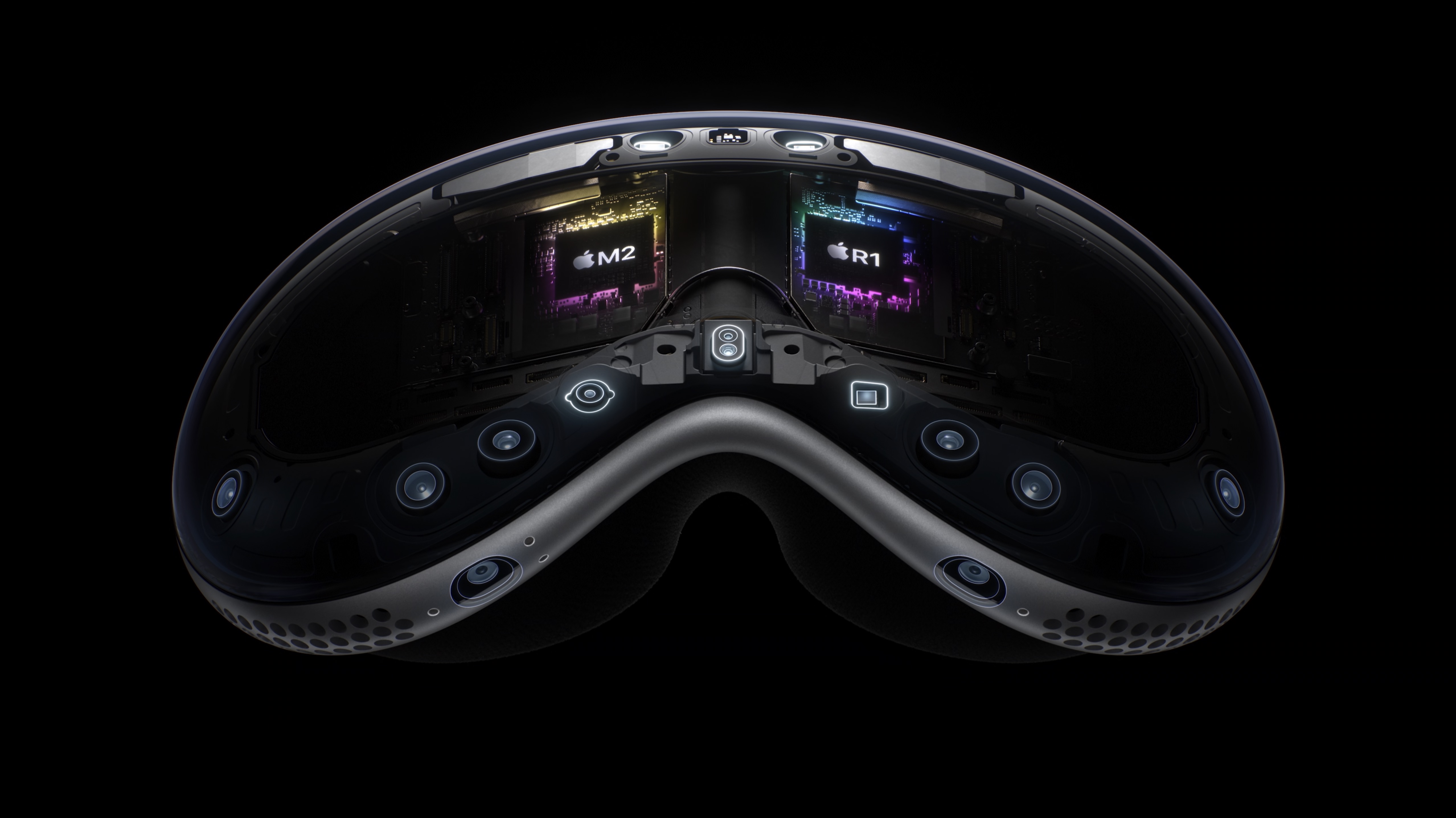 Apple Vision Pro: Processor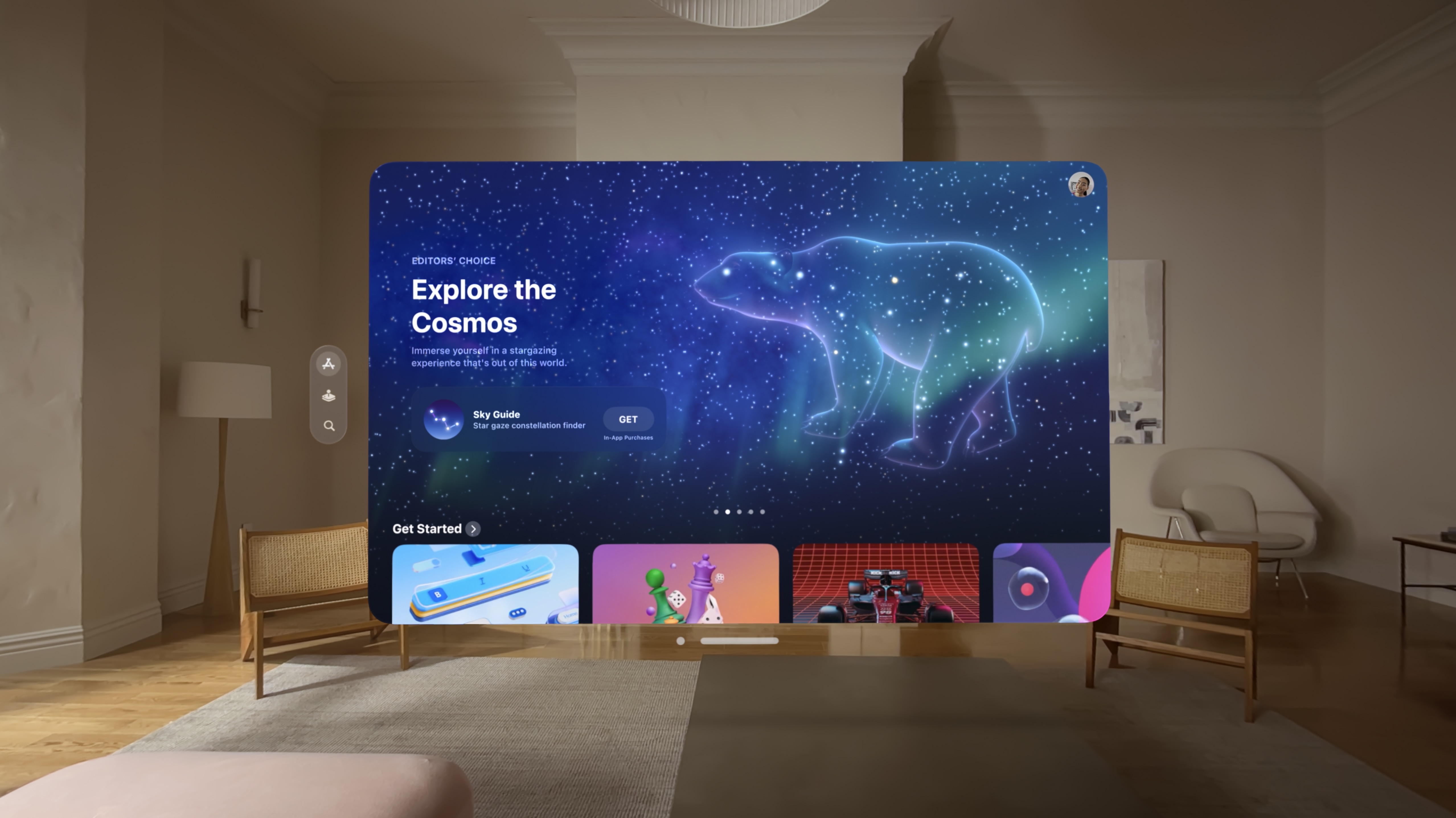 Apple Vision Pro is powered by Apple's M2 silicon chip, found in its best MacBooks. The chip helps run all of the stunning visuals, but it's supported by a brand new R1 chip. That processes all of the inputs that keep the headset running. It includes data from 12 cameras, five sensors, and six microphones so the content always feels like it's right in front of your eyes in real time.
A new Magic Battery will be powering proceedings.
Apple Vision Pro: Display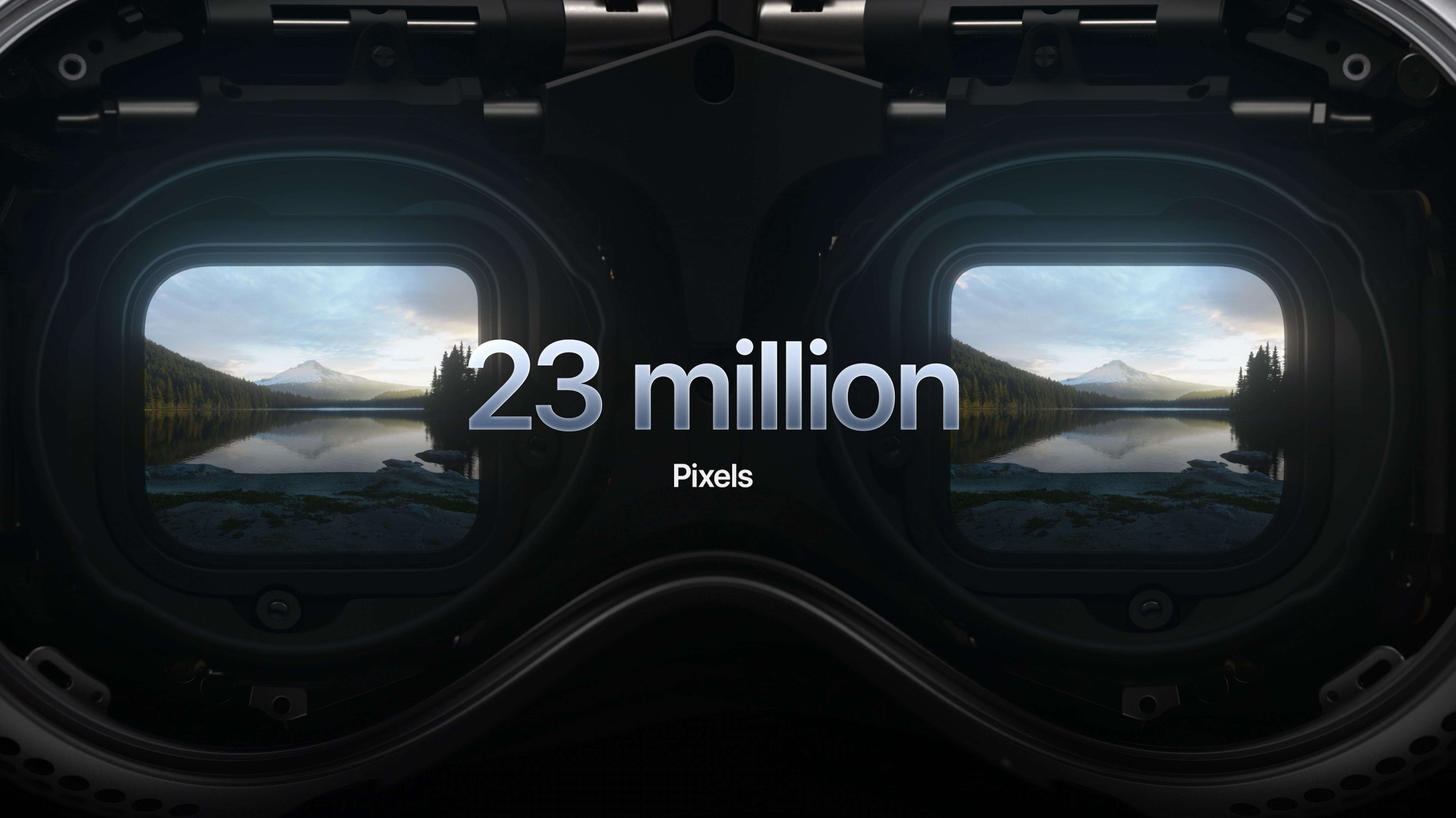 The Vision Pro display is a micro-OLED ultra-high-resolution display with up to 23 million pixels across two displays. That means each eye gets better than a 4K TV to look at. It combines with catadioptric lenses for sharpness and clarity.
Prescription glasses wearers will benefit from ZEISS Optical Inserts, but those cost extra.
Apple Vision Pro: Sound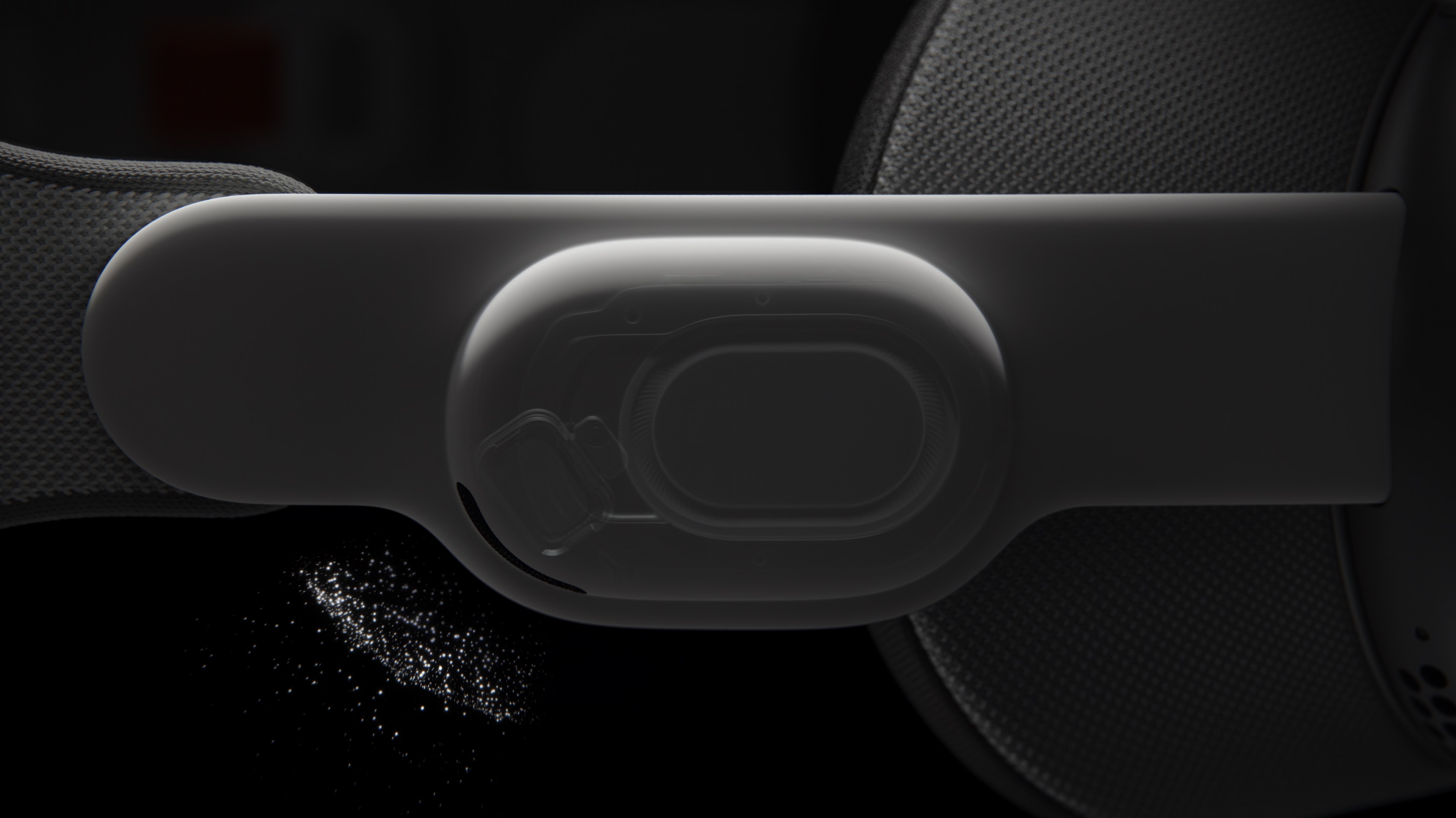 Vision Pro features advanced Spatial Audio powered by two AudioPods. Each of these AudioPods has a dual-driver setup that can generate Spatial Audio based on your own head and ear geometry.
Apple Vision Pro: Controls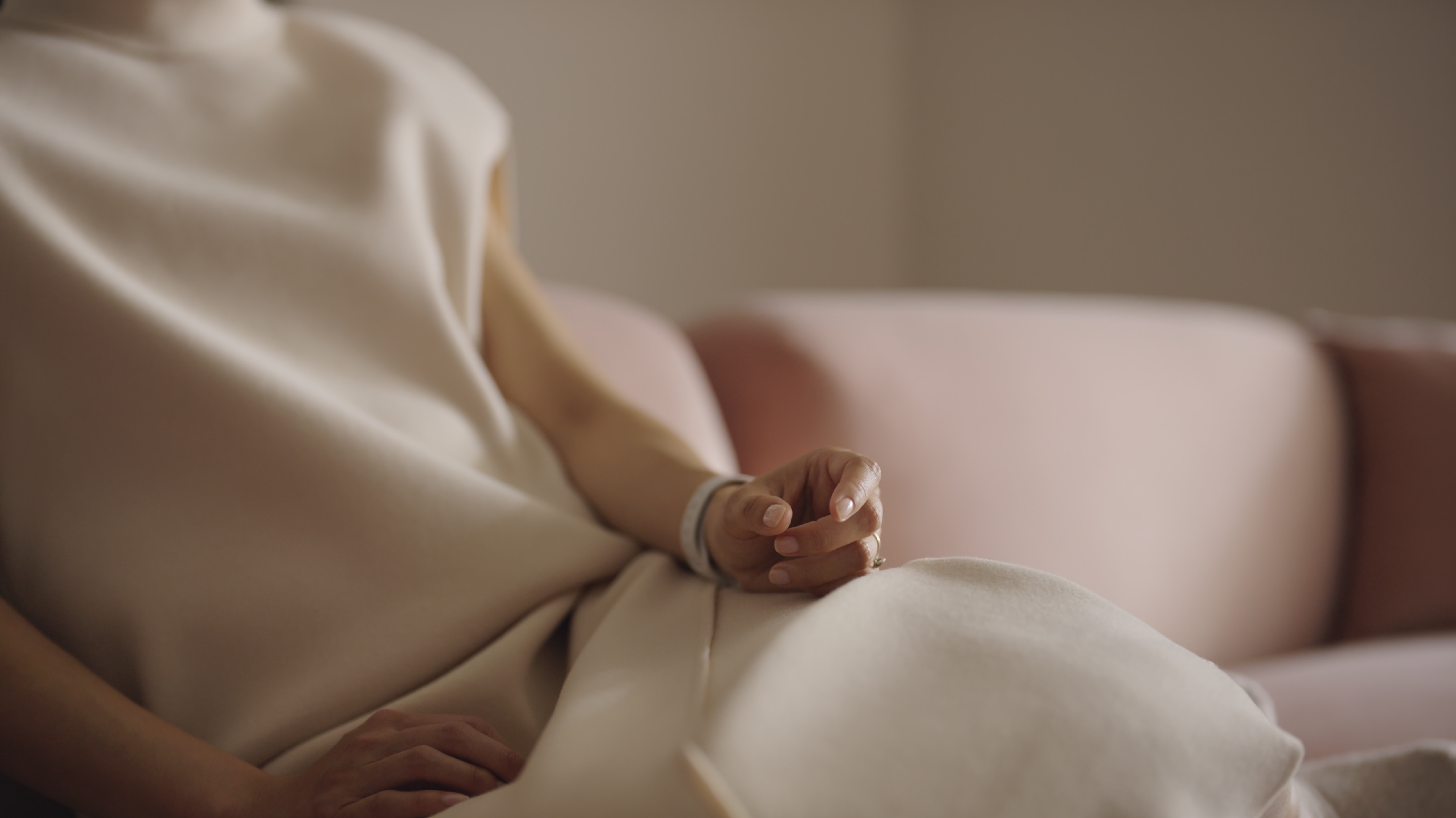 Apple Vision Pro doesn't have any kind of hand controls like the Meta Quest, for instance. It works solely using gestures from your hands, eyes. and through speaking. Users can browse apps by simply looking at them, before tapping their fingers to select one. Scrolling is a matter of flicking your wrist, while you can dictate text with your voice. It's also possible to use Siri to control the headset.
Apple Vision Pro: Camera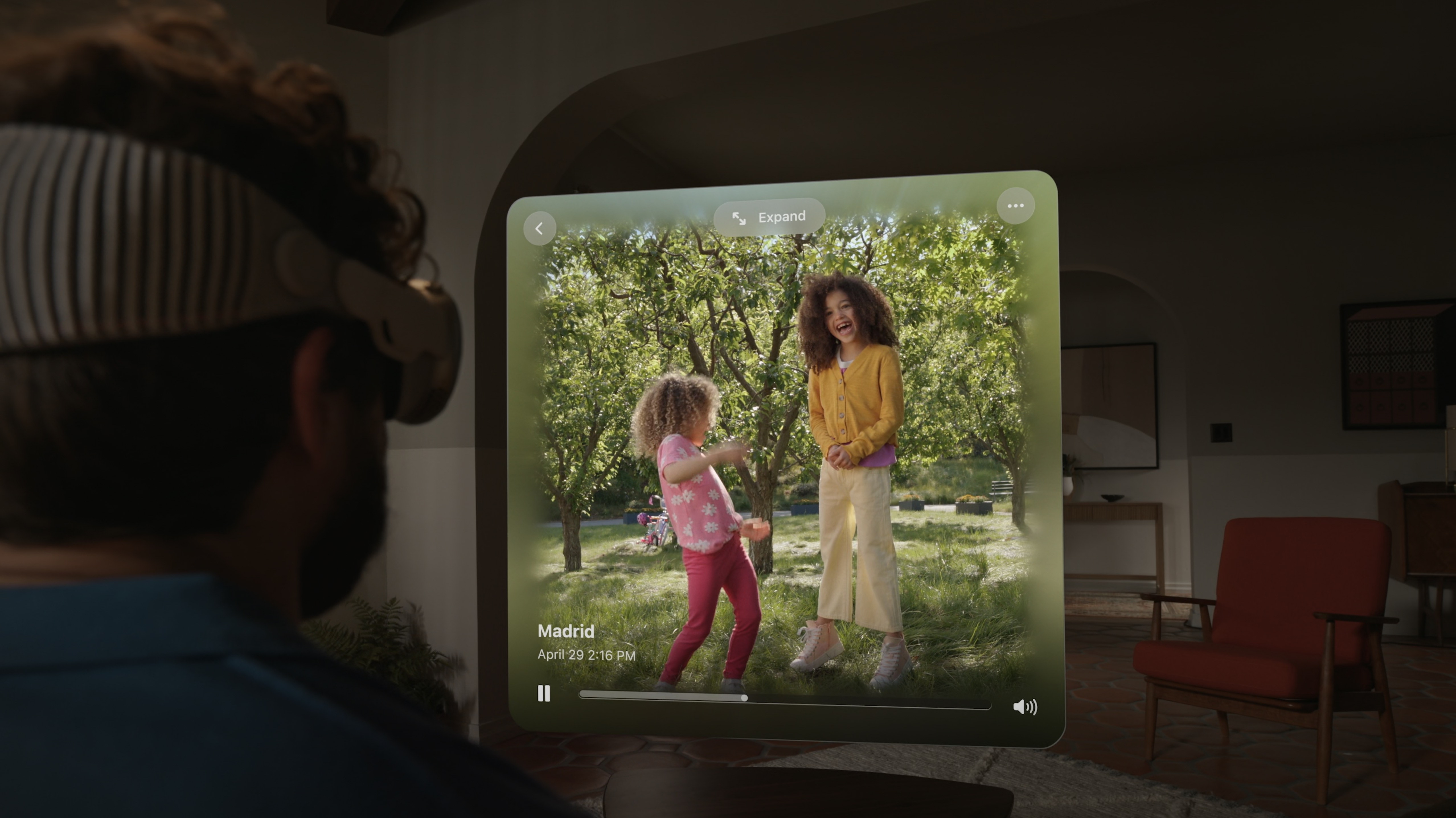 Vision Pro features Apple's first-ever 3D camera, letting you capture immersive memories in 3D with spatial audio so that you can view them again at a later date. It's also possible to see your entire iCloud Photo library in Vision Pro and see Panorama shots expanded as if you were standing right there. One of the most exciting features for some users is sure to be Spatial Memories, providing you with a far more immersive experience than simply looking at a photo.
Apple Vision Pro: What can it do?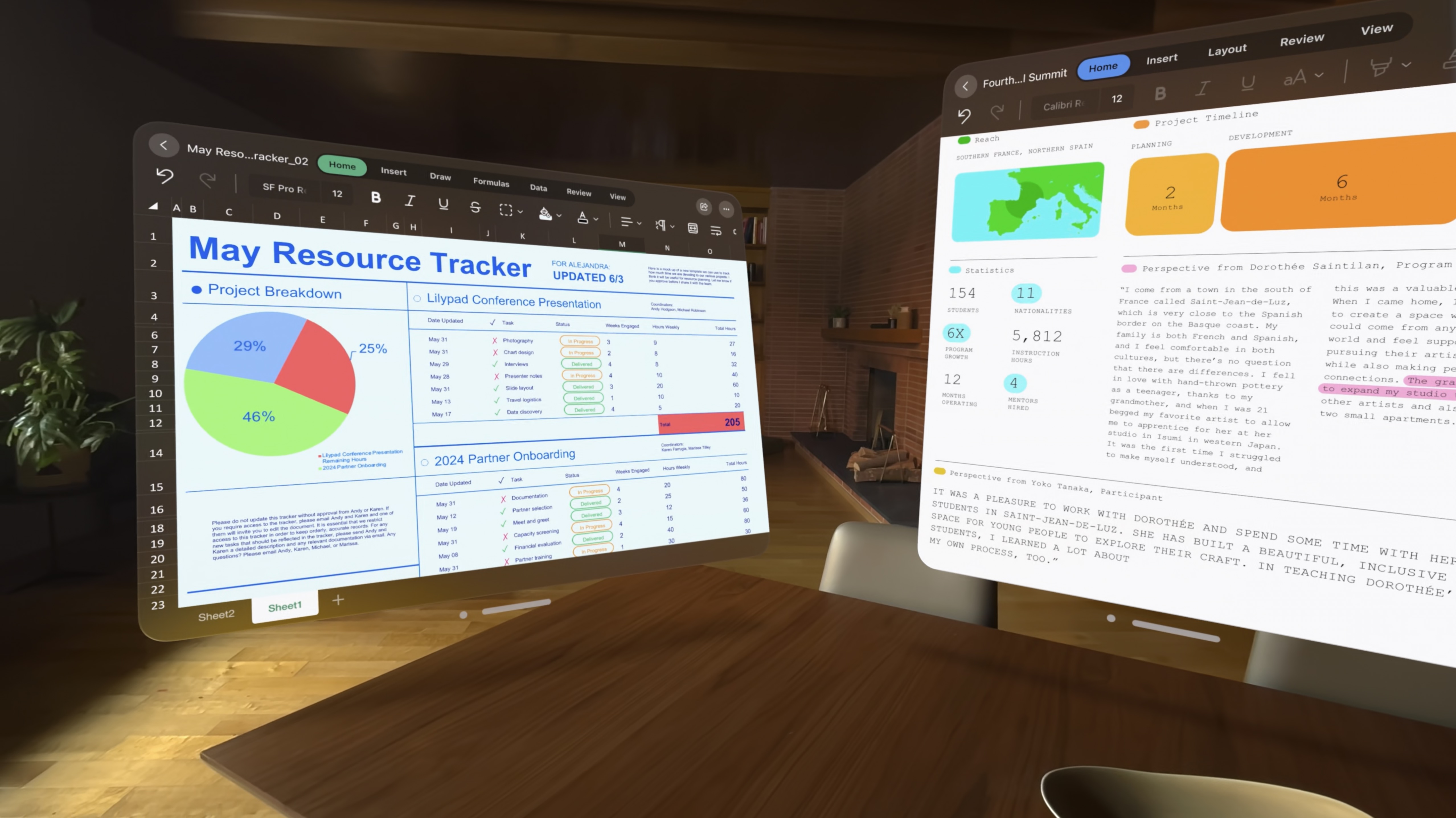 Apple Vision Pro has a plethora of use cases, giving you infinite screen real estate. Remember — this isn't a traditional VR headset, it's an AR headset so while it doesn't support 'room-scale' experiences, it does allow you to have seemingly endless amount of room for your apps and projects.
For work, you can use it to access apps and multitask, making inputs with a virtual mouse and keyboard. You can collaborate on documents in apps like Freeform, and it supports Microsoft apps like Teams and Excel. You can have apps side-by-side at any scale too. Vision Pro will also connect wirelessly to a Mac, acting as a portable, private, 4K display. Some enterprising folk have even managed to get Windows XP running on a simulated Vision Pro.
Entertainment and gaming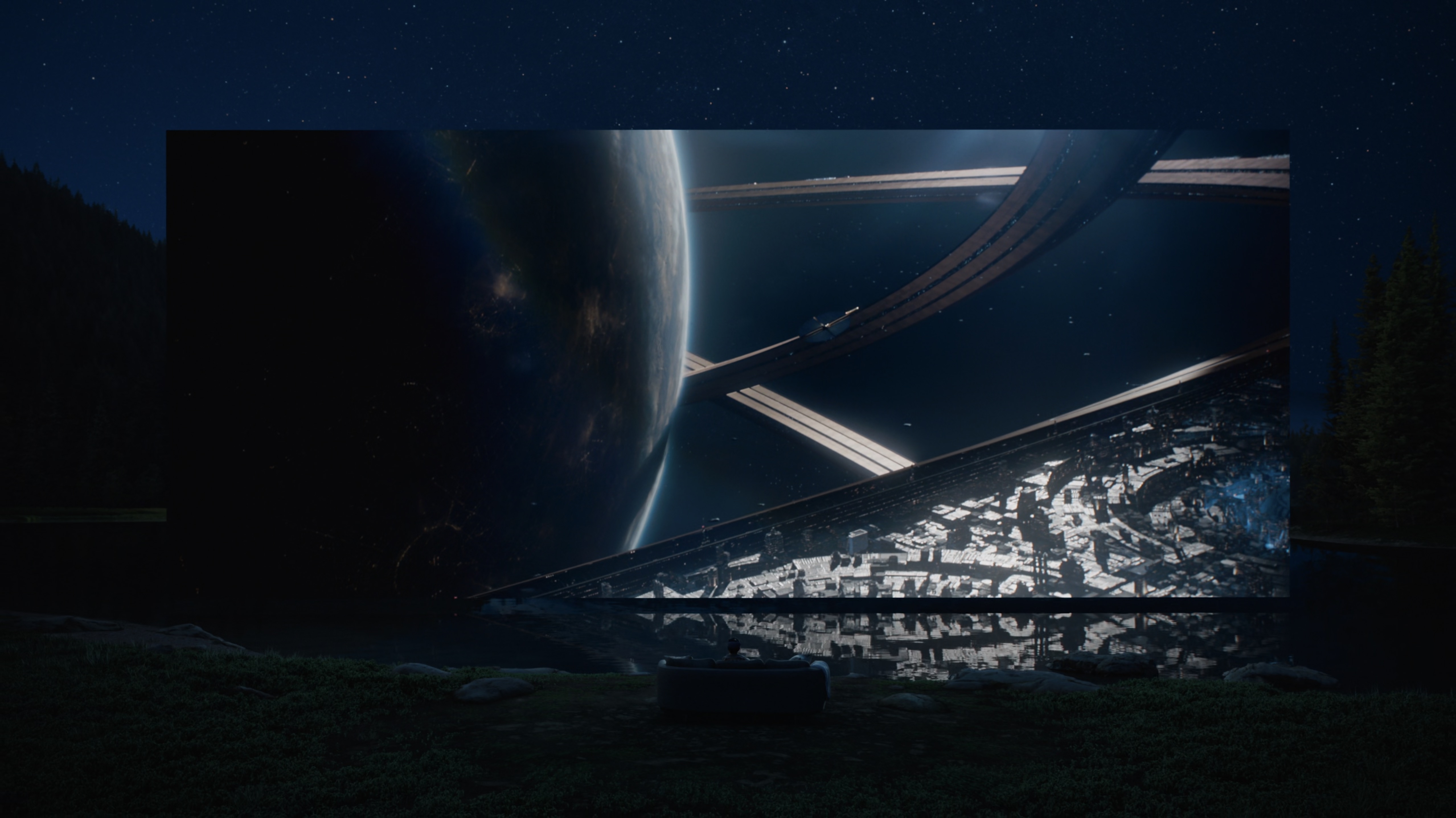 Vision Pro looks like a stunning way to enjoy movies, TV shows, and games. It offer movie theater displays of up to 100 feet wide and advanced Spatial audio. You can also watch content in environments to further increase the sense of scale and immersion. We've already discovered one particular show that will offer Spatial Video support once released.
Spatial computing means you can also play games, with support for popular controllers and over 100 Apple Arcade games on a screen as large as you want. Unity has already been confirmed to be involved with game development so it'll be fascinating to see what games emerge.
Apple has also teamed up with Disney, bringing Disney Plus to Vision Pro at launch. It will feature immersive settings for shows like The Mandalorian, which you'll be able to watch on Tattooine. Netflix fans will disappointed to learn that there won't be an Apple Vision Pro Netflix app, however.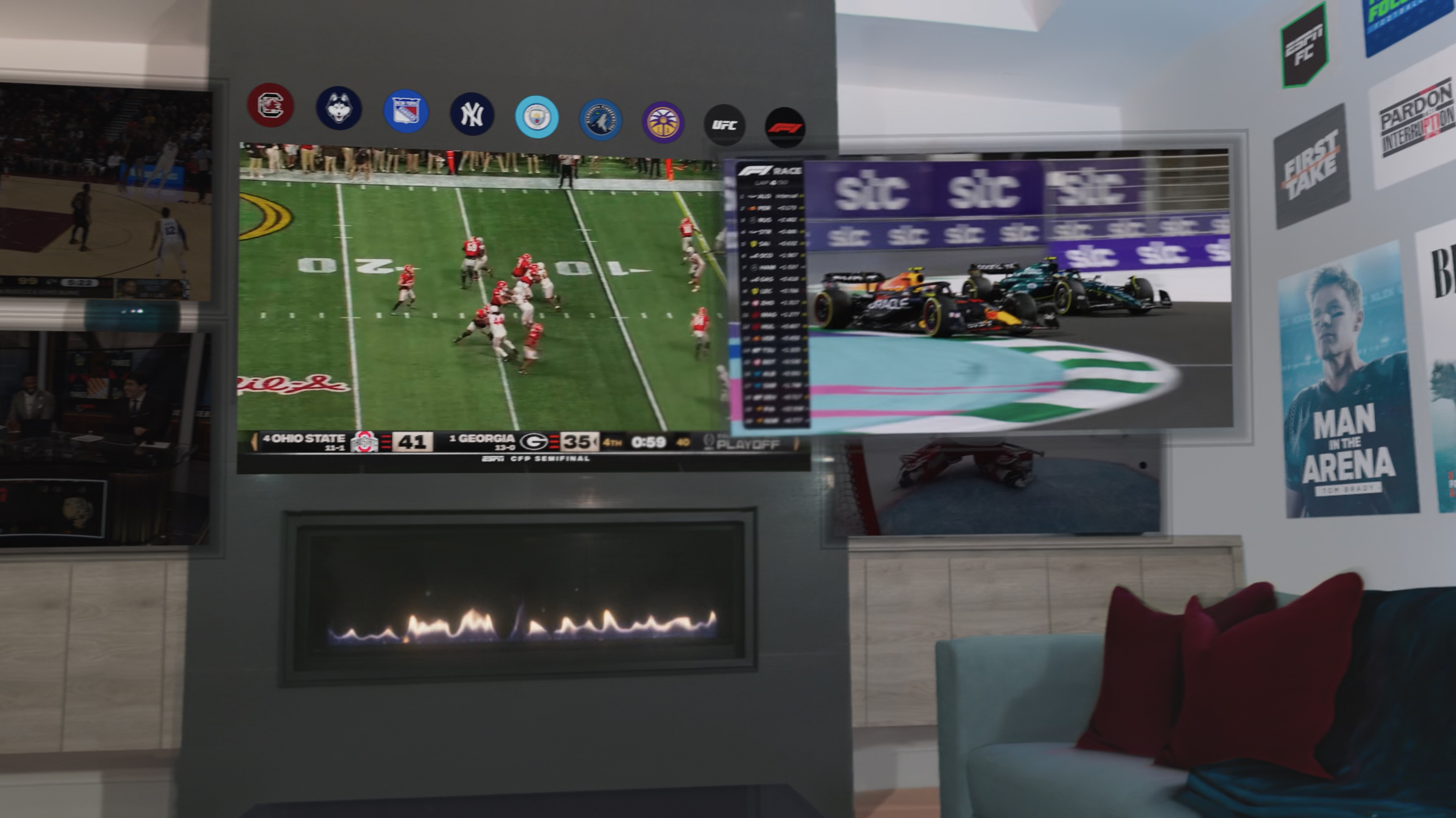 EyeSight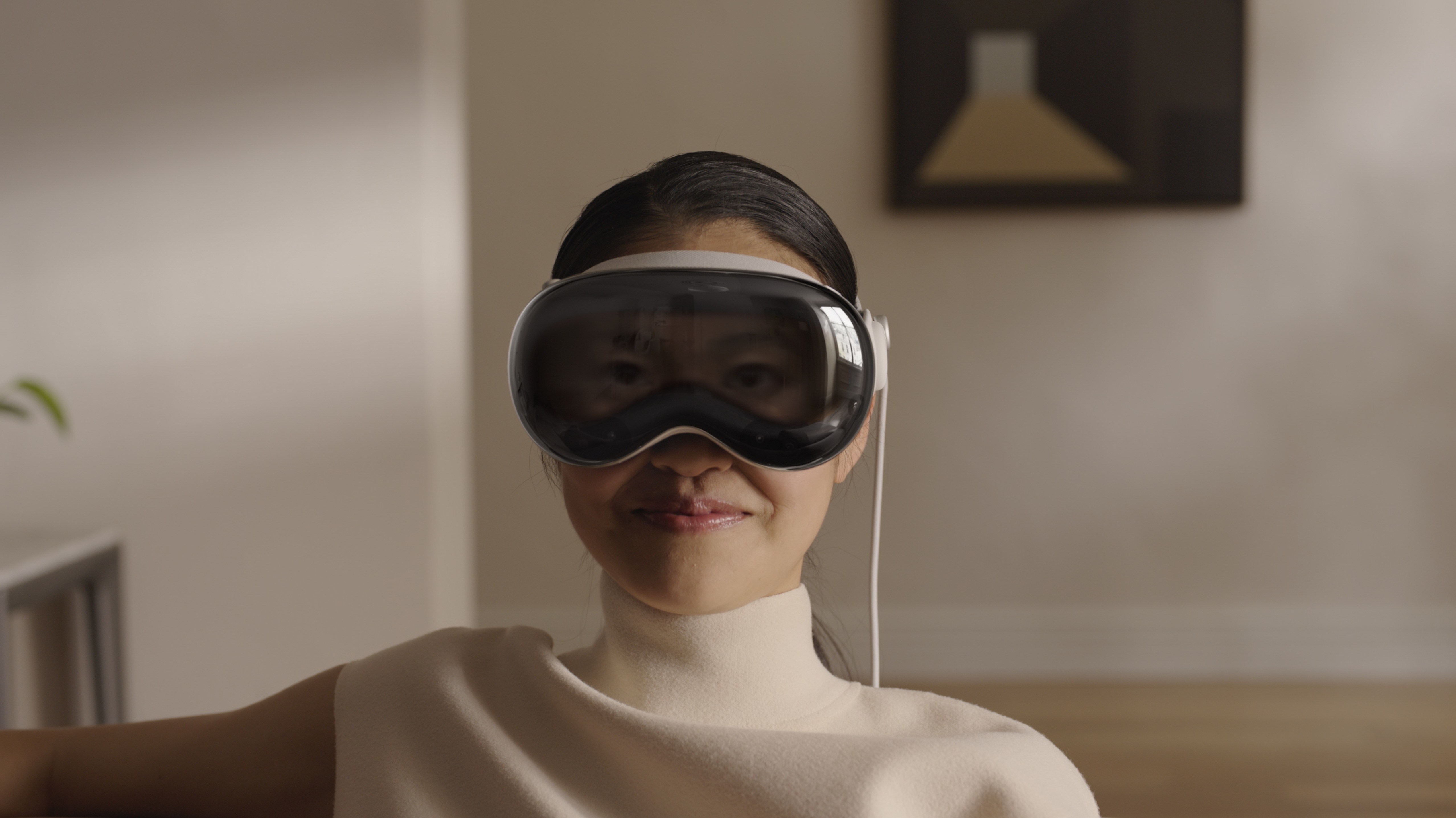 One hallmark of the new product is EyeSight. The feature shows your eyes on the exterior of the device. The display lights up when someone walks into your field of vision, revealing "your eyes" to whoever is nearby. Likewise, they appear within your display. Creepy? We will see.
As expected, Siri is baked into Apple Vision Pro, although it's not more advanced as hoped. While Chatbots have exploded in technical ability in recent months, thanks to leaps forward from Microsoft, Google, and others, that doesn't appear to be the case with Siri starting to lag behind.
Other features include being able to receive 3D objects in messages before pulling them out to look at them as if they were a real object. In conjunction with that, Vision Pro is Apple's first 3D camera. In particular, it's focusing on how Spatial Memories means being able to "relive a special moment from your daughter's birthday" in an unique way.
Look out for a special travel mode too, although don't count on having as much functionality when on a plane.
Intriguingly, the headset will potentially have more storage than the average MacBook Pro and many of the best iPhones too. It could be as much as 1TB.
FaceTime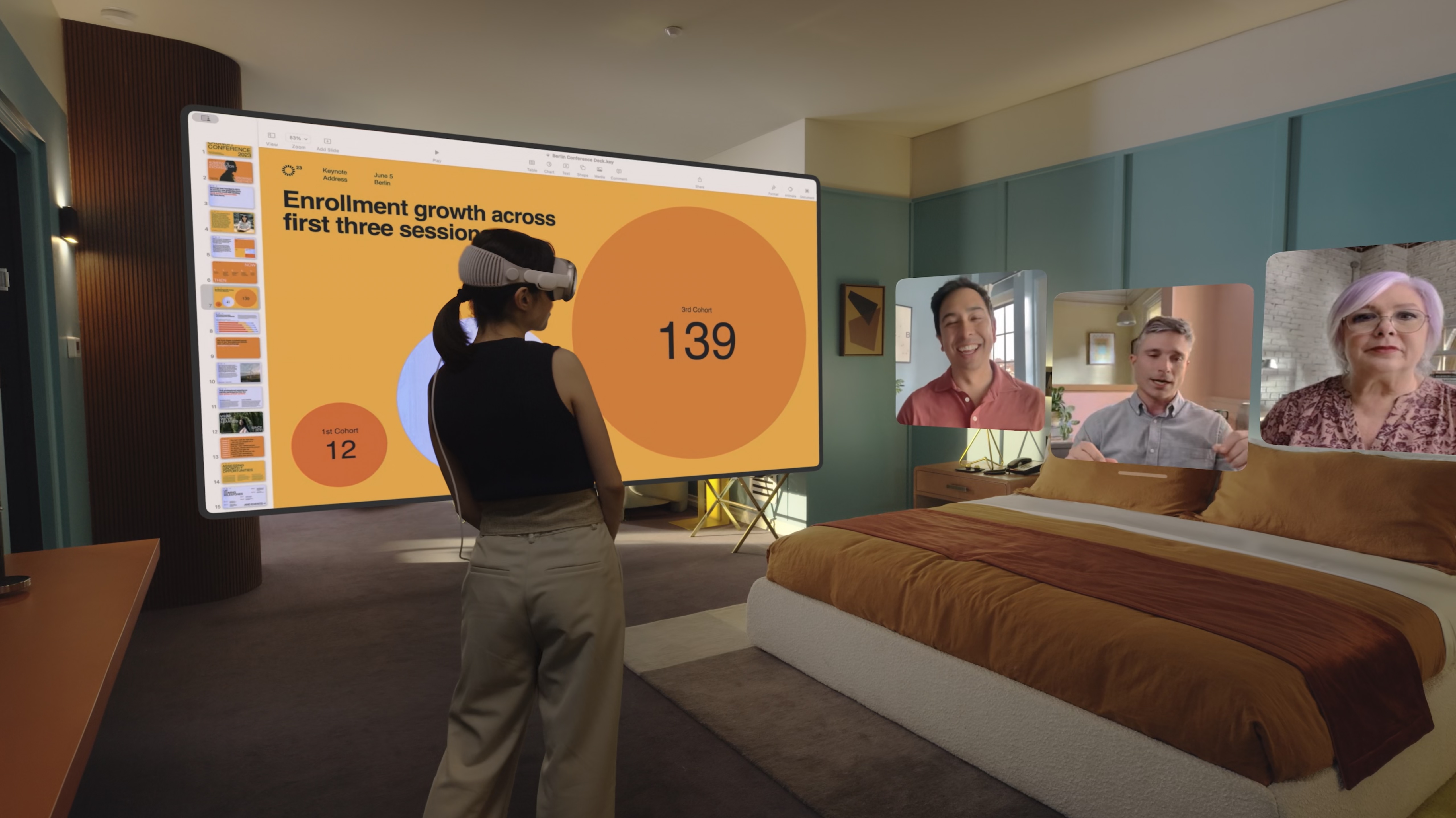 Vision Pro can scan your face using the TrueDepth camera to create a digital Persona that can be shown in virtual reality. It forms a digital reconstruction of you, reflecting your face and hand movements in real time. From there, you can watch movies, browse photos, or work together with others, just like if you were there. Kind of.
App Store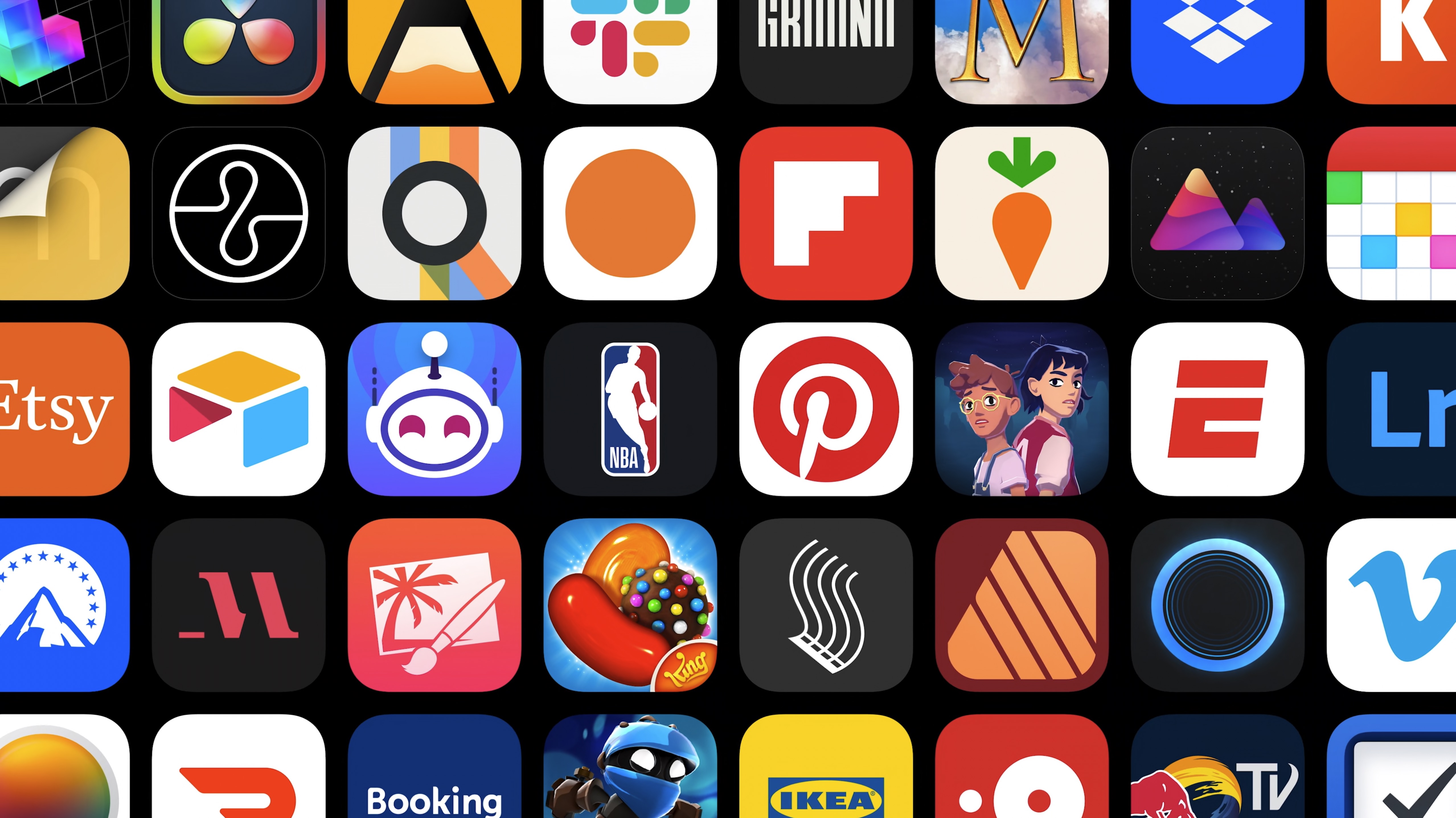 Apple Vision Pro will be able to run thousands of iPhone and iPad apps at launch, but it will also feature its own dedicated App Store featuring 3D apps specifically designed for the Vision Pro headset.
We already know apps like Final Cut Pro will offer Vision Pro support in the future with many more set to come.
Eye tracking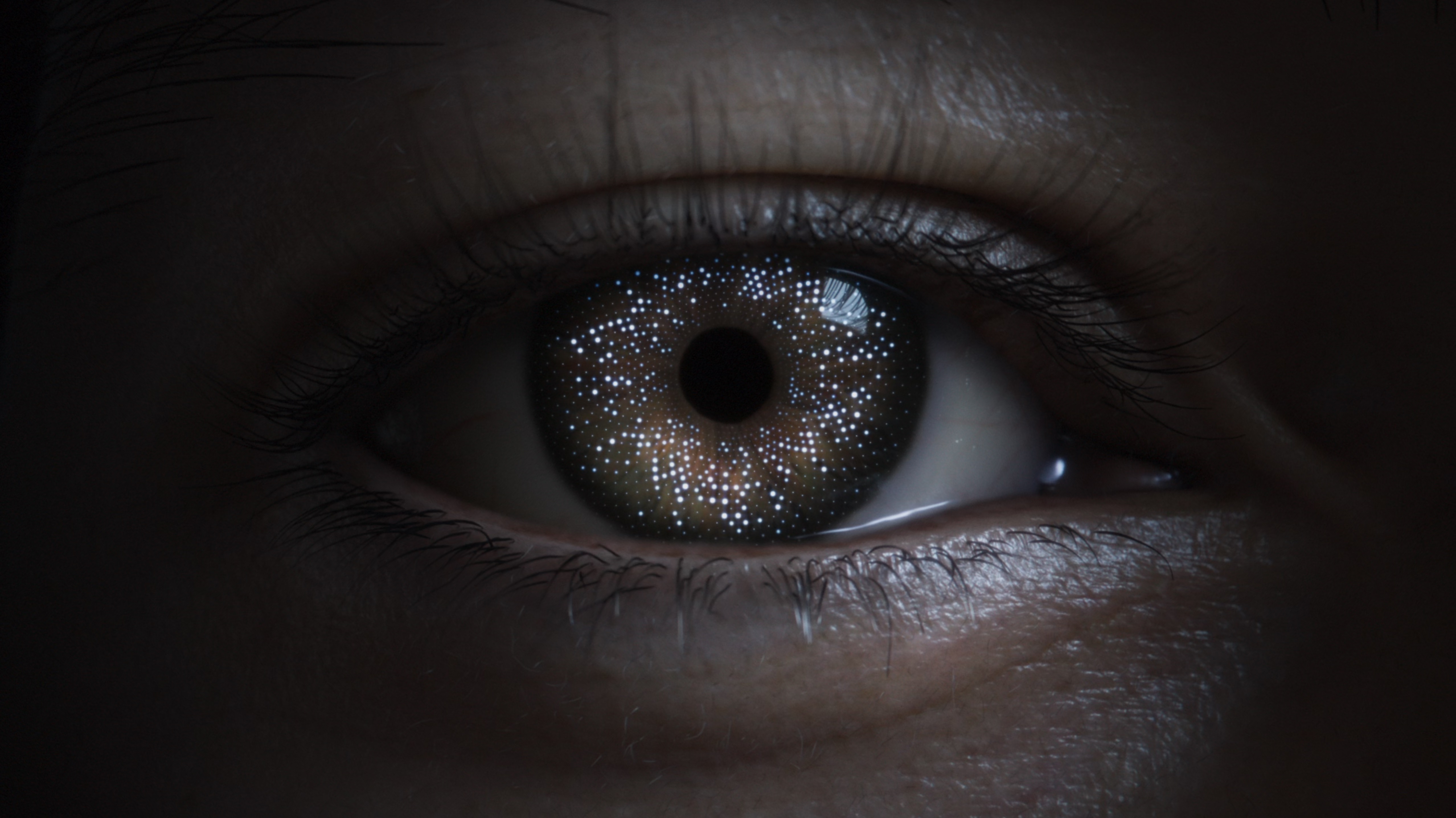 Vision Pro has a high-speed camera and a ring of LEDs that project light onto your eyes, controlling the inputs. There's also Optic ID, a new biometric security system that can scan your iris using LED to unlock Apple Vision Pro. You can use it to make payments using Apple Pay, as well as autofilling passwords on apps like Safari.
Apple Vision Pro headset: Release date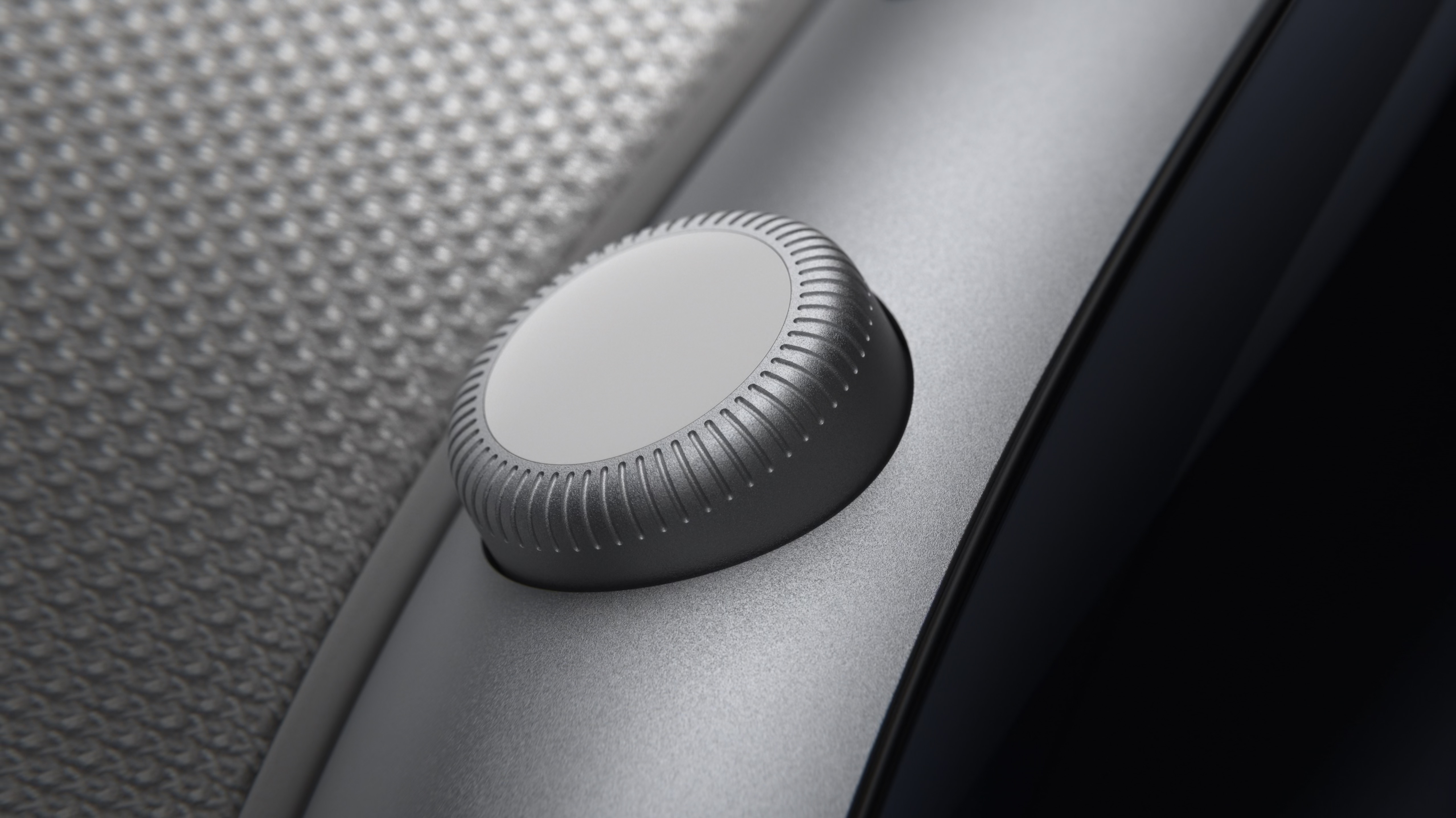 Apple's Vision Pro headset will initially only be available in the U.S. when it launches in "early" 2024. More countries will see a release date later in 2024.
Customers can go into an Apple Store to learn more about the headset and even personalize their fit for their own purchase. Something that's likely to be near vital given the way it works.
Apple Vision Pro headset: Price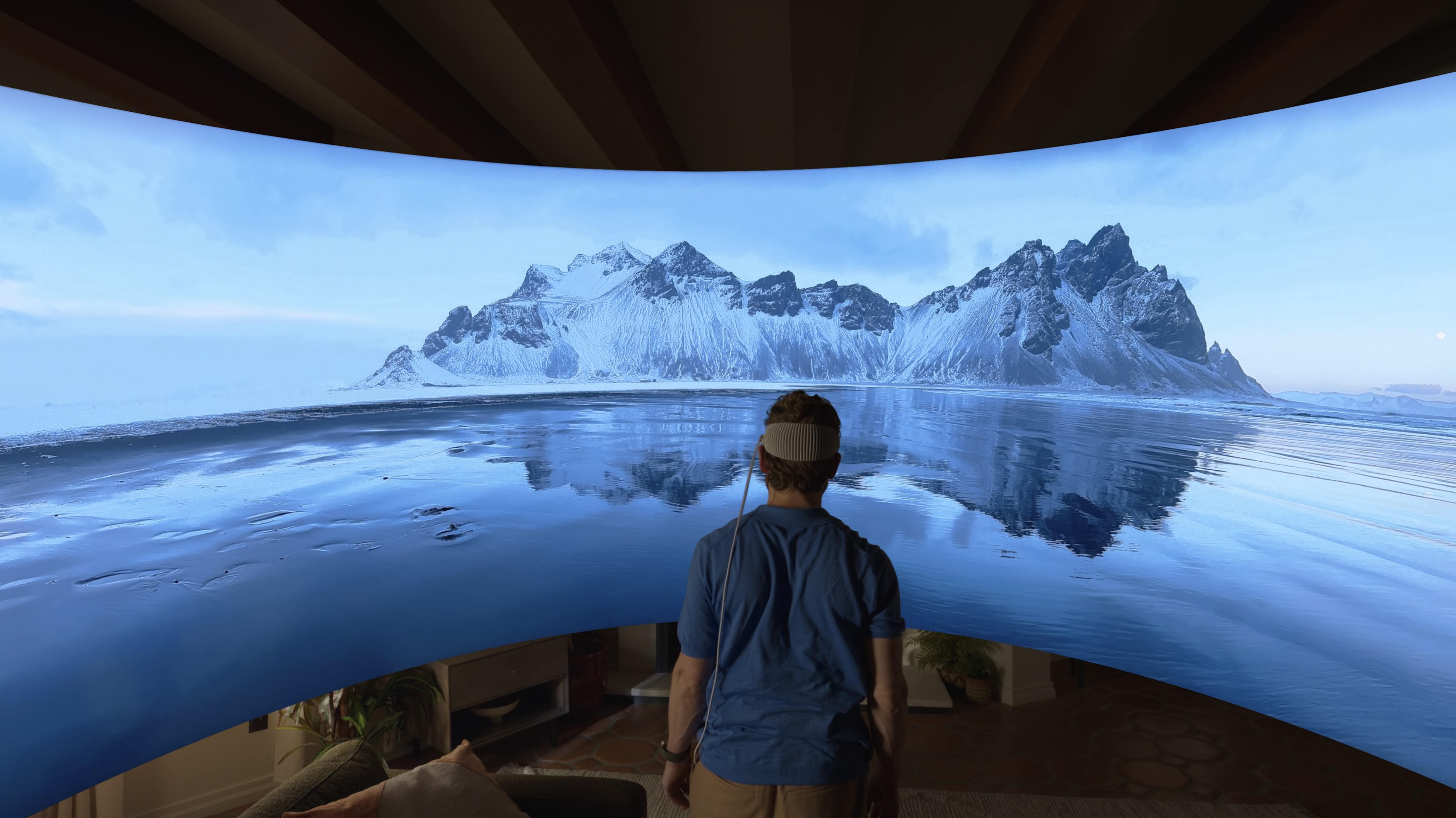 Apple's Vision Pro headset starts at $3,499, which is even more expensive than the rumored $3,000 price tag that was floating around prior to its announcement. That's significantly pricier than even the Meta Quest Pro, and a lot more than headsets such as the Meta Quest.
Despite that, it's an exciting time to be an Apple fan with the Apple Vision Pro winning 'Most Wanted' in the iMore Readers' Choice Awards.
Apple's vision of augmented reality looks more thrilling the more we learn about it. It'll be fascinating to see what developers come up with as they work on new applications for the headset.
[ For more curated Apple news, check out the main news page here]
The post Apple Vision Pro headset: Release date, features, price, and everything else you need to know first appeared on www.imore.com