From www.laptopmag.com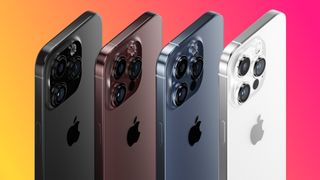 (Image credit: Hanstsaiz)
If you've been eyeing the iPhone 15 Pro Max and hoping for a September ship date, you may be sorely disappointed. According to a rumor from 9to5Mac, the iPhone 15, iPhone 15 Plus, and iPhone 15 Pro are poised to ship on time, but the highest-end model won't hit store shelves until October.
The iPhone 15 Pro Max, according to the rumor mill, is expected to get the most generation-over-generation camera upgrades, including the periscope lens that will provide more optical zoom than the current 3x cap. The parts needed for this new lens system are facing some hindrances, and consequently, the iPhone 15 Pro Max's ship date is reportedly delayed.
Is Sony to blame?
Sony, the supplier that is handling the iPhone 15 Pro Max's image sensor components, will not have the required parts in time for a September ship date, 9to5Mac said, citing a "major equity analyst note."
The iPhone 15, iPhone 15 Plus and iPhone 15 Pro are expected to ship on Sept. 22 after they're revealed at the highly anticipated Apple September event. The iPhone 15 Pro Max, on the other hand, will reportedly face a manufacturing delay of three or four weeks. As such, the top-end model may not see the light of day until mid-to-late October.
This isn't the first time that we've heard that the iPhone 15 will face some sort of delay. For example, last month, Wamsi Mohan (a global securities analyst from Bank of America), predicted that supply-chain issues could hamper Apple's desired ship date for its new phone line. However, he didn't specify which model would be affected.
It's also worth noting that Mohan correctly prognosticated the iPhone 12's delay, so Mohan's iPhone 15 prediction carries some weight. Jeff Pu, a tech analyst from a Hong Kong-based investment firm, also warned that the iPhone 15 may be delayed. However, he said that the 48-megapixel wide camera coming to the entry-level models, not the periscope camera, is the culprit.
Keep your grain of salt handy, though. Until we hear it from the horse's mouth, we're expecting the iPhone 15 Pro Max to ship in September just like the iPhone 14 Pro Max.
[ For more curated Apple news, check out the main news page here]
The post iPhone 15 Pro Max rumored delay will keep you waiting for weeks — why Sony is to blame first appeared on www.laptopmag.com