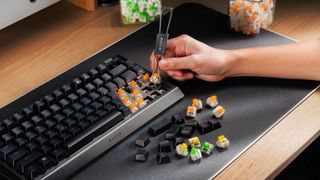 (Image credit: Razer)
What you need to know
Razer launched its BlackWidow V4 75% keyboard this week.
The feature-rich keyboard is the company's first hot swappable keyboard, and it includes several other customization options.
The Razer BlackWidow V4 75% is available now for $189.99
---
Razer just unveiled and launched its BlackWidow V4 75% keyboard. The accessory is a feature-rich keyboard that includes hot-swappable sockets, tactile mechanical switches, and Razer Chroma RGB. It has several customization options, allowing you to fine tune your gaming or typing setup. For example, the BlackWidow V4 75% works with both 3-pin and 5-pin switches.
The Razer BlackWidow V4 75% can be bought from several retailers, including Razer's website, for $189.99.
Razer's BlackWidow family of accessories have high-end specs and pack in quite a few features. That's the case here with the BlackWidow V4 75%. The keyboard has an 8000Hz polling rate, programmable keys through Razer Synapse, Doubleshot ABS Keycaps, N-key rollover, and anti-ghosting.
Unlike its predecessors, the BlackWidow V4 75% supports hot swapping its switches. The keyboard has a socketed PCB that lets you swap switches, including options from Razer or custom switches. Razer Orange Tactile Mechanical Switches ship with the keyboard and promise "tactility without the clicks," according to Razer.
While mechanical keys are often clicky, which is a desired attribute by many gamers, some keycap and switch combinations can create unwanted noise. The BlackWidow V4 75% has a gasket-mounted FR4 plate, two layers of foam, and a tape-enhanced printed circuit board on the FR4 plate to reduce pinging and reverberation.
You can customize the look of the keyboard as well, thanks to its 2-side underglow per-key lighting. Our Razer BlackWidow V4 Pro review said in its title that the keyboard had "so much RGB, God may complain," so it's not surprising to see the BlackWidow V4 75% have loads of lights.
The price tag of the Razer BlackWidow V4 75% is certainly premium, but that's expected from devices in the range.
[ For more curated Computing news, check out the main news page here]
The post Razer packed every bell and whistle into its BlackWidow V4 75%, including hot-swappable switches first appeared on www.windowscentral.com