From bgr.com
Published Sep 14th, 2023 7:24AM EDT
As the iPhone 15 Pro pre-sale starts tomorrow, we were able to see the first Geekbench score for this model with the new A17 Pro chip. While the results align with what Apple announced during its keynote, it only shows how Cupertino silicon crushes every Android phone.
Spotted by MySmartPrice, the iPhone 15 Pro pulled off 2908 points on single-core and 7328 points on multi-core tests; compared to the iPhone 14 Pro and its A16 Bionic chip, this processor scores 2642 on single-core and 6739 in multi-core tests.
Compared with Galaxy S23 Ultra, which features a Qualcomm Snapdragon 8 Gen 2 chip, the South Korean smartphone scores 1878 points on single-core and 4973 on multi-core – far from both iPhone 14 Pro and iPhone 15 Pro models.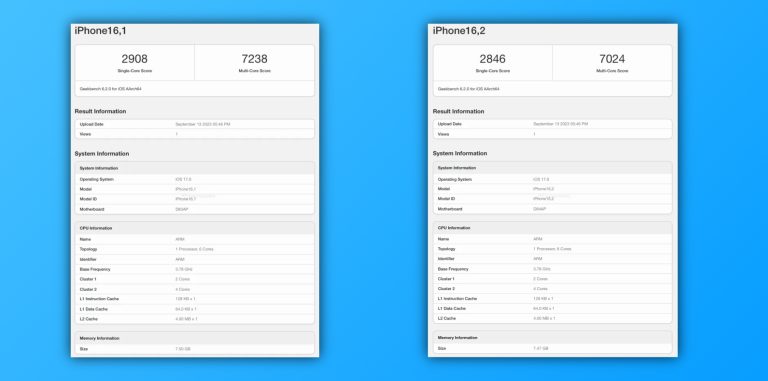 These Geekbench scores also reveal that Apple has upgraded the iPhone 15 Pro and 15 Pro Max with 8GB of RAM, a first for Apple's smartphone lineup. It's important to note that Apple is using an industry-first 3nm manufacturing process to create this chip.
Apple says it has 19 billion transistors with a 6-core CPU, two high-end performance cores, up to 10% faster, and 4 performance-core CPUs. Thanks to the new Neural Engine, it can perform 35 trillion operations per second. Its new 6-core GPU makes it 20% faster than the previous generation while also improving efficiency. It has hardware-accelerate ray tracing, 4x better than software ray tracing, available with the iPhone 14 Pro.
If you are considering upgrading your old iPhone for one of the new phones, BGR helps you with a comparison post between the two Pro iPhones.
[ For more curated tech news, check out the main news page here]
The post iPhone 15 Pro Geekbench score crushes every single Android phone first appeared on bgr.com