From www.techradar.com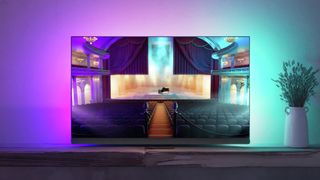 (Image credit: Philips / TP Vision)
Battle lines are being drawn up over next-gen OLED TV technology and Philips is taking aim directly at LG. The TP Vision-owned TV maker has reportedly announced pricing and availability for its flagship OLED TV – the 908 – and it's largely in line with the LG G3.
During a press event in Barcelona, which was reported on by the likes of What Hi-Fi? and T3, Philips announced that the OLED908 range of TVs will start with a pricing of £2,999 for the 55-inch model, which is not too far off what the same sized G3 model launched at (£2,599.98).
We've compiled the rest of the prices below:
Swipe to scroll horizontally
| OLED908 pricing | Header Cell – Column 1 |
| --- | --- |
| 55-inch | £2,999 |
| 65-inch | £3,499 |
| 77-inch | £4,999 |
Given that you can pick up a 55-inch G3 for less these days – it's currently available on the LG site for just £1,999.98 – we think UK consumers that are in the market for a new set now have a big decision ahead of them.
Mainly because the LG G3, which we largely think is the world's best TV (keep an eye out for our official review), has the brightness boosting Micro Lens Array (MLA) panel, alongside the light increasing algorithm META, which lets it emit light from the display's individual pixels more effectively to achieve 2,000 nits of peak brightness.
Both of these next-generation display technologies are in the Philips 908 OLED TV. It even has another couples of tricks up its sleeve in that you're getting access to its atmospheric Ambilight tech that lights up the sides of the display to match the TV's image. And it sports a 3.1 channel Bowers & Wilkins sound system (with two 30mm midrange drivers, a 19mm titanium dome tweeter and a 75mm subwoofer). So, which should you choose?
The battle for brightness
Because we haven't yet tested out Philips' new OLED 908 TV, it's still too early to say which would be a better buy. But I can say that if it's anything like the LG G3, which I lived with a month, then there's going to be a lot to consider here.
Particularly when it comes to gaming. Like the best gaming TVs, the 908 OLED TV has 4K 120Hz variable refresh rates, Dolby Vision game mode, HDMI VRR and ALLM. It also boasts AMD FreeSync Premium and Nvidia G-sync compatibility for a much smoother gaming experience with the PS5, Xbox Series X and PCs.
When we first heard about Philips' new OLED TVs earlier this year, we already thought they might actually dethrone LG as the best gaming TV. Now that we have the official pricing, it's looking like there's going to be competition in the MLA space.
Of course, there's also Panasonic's MZ2000 OLED TV – which I also had the opportunity to see in-person and it really is Panasonic's brightest TV – that has an MLA panel inside of it. The MZ2000 has a starting price of £2,699 for the 55-inch model, making it another competitively priced MLA OLED TV alternative.
The only big shame? If you live in the US or Australia, you won't be able to purchase the new Philips TVs. For those in the UK though, you'll be able to buy the new set in mid-October (European availability has not yet been confirmed).
You might also like
[ For more curated tech news, check out the main news page here]
The post Philips new high-end OLED TV is priced like the LG G3, but claims to be even brighter first appeared on www.techradar.com