From www.whathifi.com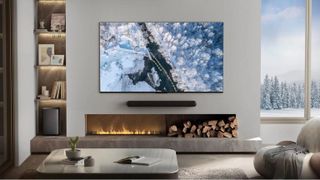 (Image credit: TCL)
TCL has confirmed pricing for some of its new 50 to 98-inch mini LED TV models, including the 98-inch P745 4K TV.
As the trend continues of manufacturers such as Sony, Samsung and Hisense harnessing the increasing global interest in huge screens, the price of the P745 is sure to garner some deserved attention.
Priced at around €2500 in Europe (approx £2150 / $2675), that's a lot of TV for the price. It's also less than you'd have to pay for a 65-inch LG G3, which is currently €2800 in Germany (approx £2400 / $3000).
It's worth noting that the G3 is, of course, LG's flagship MLA OLED TV which, thanks to its pixel-by-pixel contrast control, essentially has millions of independent dimming zones whereas the TCL P745 has no local dimming capabilities at all. And of course no-one is saying that this TCL LCD TV is going to beat any OLED on pure performance. However, if you simply want a lot of TV for your money, we've never before seen an option quite as tempting as this.
In comparison, Sony's X90L, the company's first 98-inch 4K TV, will retail for around £9000 / $10,000, while Hisense's new 100-inch U8K mini LED TV is set to cost about the same as the X90L.
TCL's new P745 supports 4K video, Dolby Atmos surround sound, and a number of HDR formats including HDR10, HDR10+, HLF, and Dolby Vision.
In terms of connectivity, the P475 features three HDMI 2.0 ports, with one supporting eARC connection, alongside two USB ports. On the wireless front, it features Wi-Fi 5 and Bluetooth 5 capabilities.
The P475 is marketed as an entry-level option. If you're looking for a higher-end TV of this size, then check out TCL's 98-inch X955 TV, which we covered recently.
MORE:
TCL unveils giant 98-inch QD-mini LED flagship TV to take on the competition
Sony's first 98-inch 4K TV is ready to take on Samsung and TCL
Think 98-inch TVs are overkill? Hisense has now revealed the world's biggest Mini LED
[ For more curated tech news, check out the main news page here]
The post TCL's 98-inch P745 TV costs less than a 65-inch LG G3 OLED first appeared on www.whathifi.com