From www.phonearena.com
Smartphones, especially the high-end ones, have progressed to a point that it doesn't really matter which processor they have as they are all really fast for day-to-day tasks. Only one chip can be crowned as the best though and MediaTek's Dimensity 9300 is vying hard for the top spot.
Announced yesterday, the MediaTek Dimensity 9300 features an unusual CPU setup with four Cortex-X4 large cores, four Cortex-A720 performance cores, and no efficiency cores.
Despite this unconventional design, MediaTek says its latest chip for flagship Android phones consumes 33 percent less power than the Dimensity 9200.
According to benchmark scores leaked by tipster @Tech_Reve, a reference device powered by the Dimensity 9300 achieved 2,289 points on the single-core test and 7,997 points on the multicore test.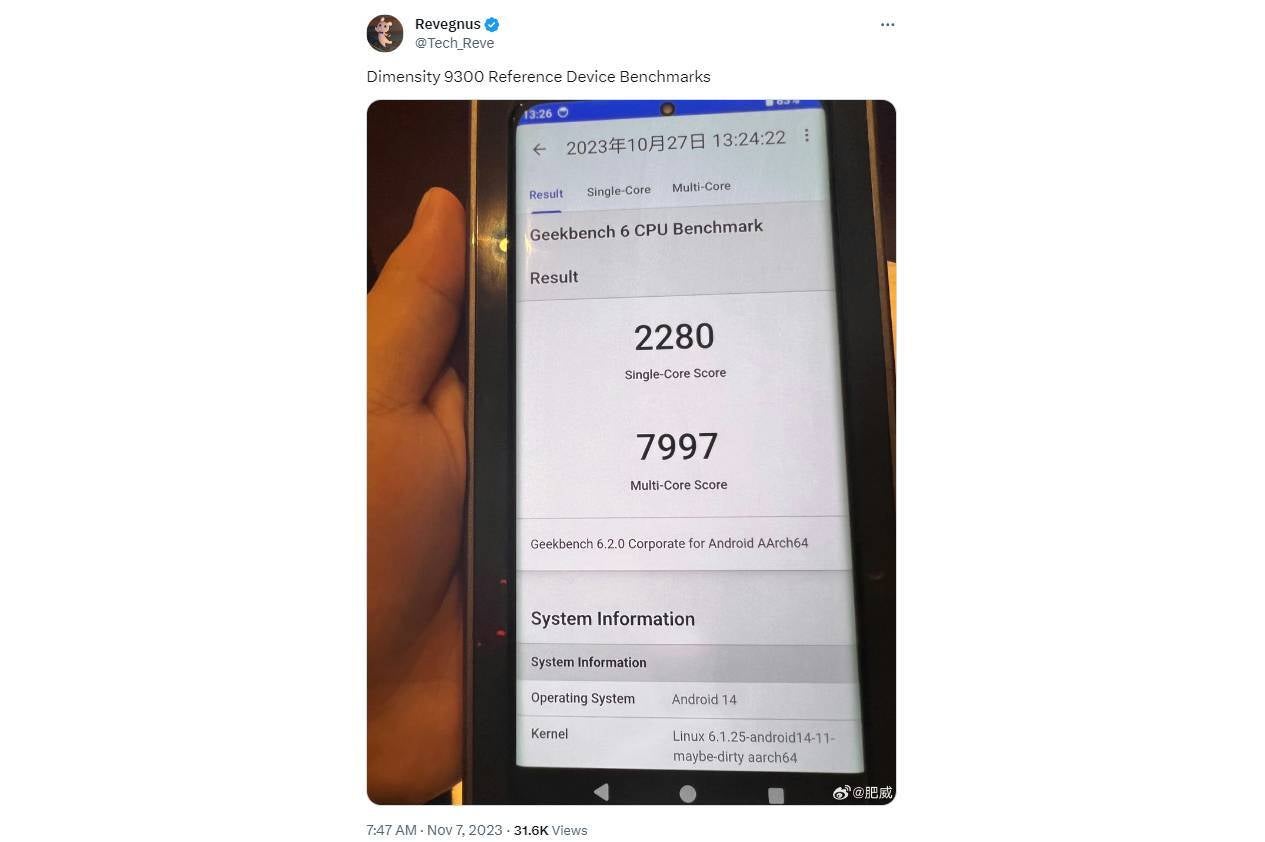 For comparison, the Qualcomm Snapdragon 8 Gen 3 which will power many upcoming top phones, including the Galaxy S24 in some parts of the world, scored 2,329 and 7,526 on the same test.
The iPhone 15 Pro Max, which is powered by Apple's A17 Pro chipset, got 2,958 and 7,288 points.
Looking at these scores, it looks like the Dimensity 9300 will offer the best multi-core performance of any smartphone chipset. While we are yet to see the chip in action and can't stop thinking about the rumor that stoked fears that the Dimensity 9300 has an overheating issue, even though MediaTek shot it down, the alleged benchmark results are still impressive, especially given that this is a 4nm chip and not a 3nm chip like the A17 Pro.
According to leaker Ice Universe, MediaTek's new chip is also more power-efficient than the Snapdragon 8 Gen 3.
Given that the Snapdragon 8 Gen 3 is apparently more expensive than the 8 Gen 2, the Dimensity 9300 is a good option for those manufacturers who don't want to increase the price of their flagship phones.
Generally speaking, better single-core performance will make a phone feel snappy during everyday activities such as opening apps and web browsing, whereas multi-core performance comes into play when your phone is performing demanding tasks such as running a game or when you are multitasking.
Even though the chip doesn't have any energy-efficient core, MediaTek has assured that this isn't going to negatively impact the battery life as the A720 will consume less power in its low-power state than a small core like the A520 running at near maximum power or for a longer period.
The chip features a 12-core Arm Immortalis-G720 GPU, which MediaTek says will allow phones powered by it to offer console-level illumination effects. The company claims that the GPU is faster than the Snapdragon 8 Gen 3 in some tests such as GFXBench Manhattan 3.1.
[ For more curated tech news, check out the main news page here]
The post After Snapdragon 8 Gen 3, another chip beats Apple A17 Pro in vital performance metric first appeared on www.phonearena.com